Monitoring incidental catch of vulnerable species in the Mediterranean and the Black Sea - Methodology for data collection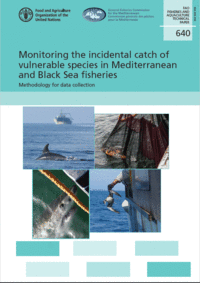 Preparation of this document
This document was prepared by the General Fisheries Commission for the Mediterranean (GFCM) of the Food and Agriculture Organization of the United Nations (FAO), thanks to the inputs provided by partner organizations: Agreement on the Conservation of Cetaceans in the Black Sea, Mediterranean Sea and contiguous Atlantic area (ACCOBAMS), BirdLife International, International Union for Conservation of Nature – Centre for Mediterranean Cooperation (IUCN MED), Mediterranean Association to Save the Sea Turtles (MEDASSET) and Regional Activity Centre for Specially Protected Areas (RAC/SPA) of the United Nations Environment Programme Mediterranean Action Plan (UNEP/MAP) – in the context of the joint project "Understanding Mediterranean multi-taxa 'bycatch' of vulnerable species and testing mitigation – a collaborative approach", funded by the MAVA Foundation.
Objective
The main objective of this document is to develop and implement an efficient, standardized data collection and monitoring system for all vulnerable species (i.e. sharks and rays, seabirds, sea turtles, marine mammals encountered in Mediterranean and Black Sea fisheries through:
providing minimum standards for collection of data on vulnerable species;
standardizing data to be collected, including forms to allow repeatability and comparisons among fisheries in the region.
Moreover, a minimum set of data (e.g. presence and abundance) should be collected for the main benthic species composing VMEs, such as sponges and corals
By clicking on the following links it will be possible to download the annexes (as reported and described in the whole document) for the on-board observations, questionnaires, and for the self-sampling operations. Furthermore, a description of the annexes (with the instructions, codes which should be used) can be found in the methodology "Monitoring incidental catch of vulnerable species".
Excel files