MedFish4Ever signatories renew their commitments to a sustainable future for Mediterranean fisheries
17/06/2019
Rome. Mediterranean countries and the European Union have pledged to pursue and strengthen their commitments agreed under the declaration that was signed in 2017. The road is still long to reverse the fisheries crisis in the region, but first efforts are paying off. That's the takeaway message from the High-level MedFish4Ever Conference 2019, held last week in Marrakech and organized by the General Fisheries Commission for the Mediterranean.
More than 250 experts, decision-makers, high-level representatives, scientists, fishers and NGOs from 20 countries as well as the European Union gathered to review progress since the 2017 landmark MedFish4Ever Declaration, and renew and strengthen the commitments made under it. After three days of discussions, workshops, knowledge-sharing and reports from across the region, there is a clear and continuing determination for fish to still be at the heart of Mediterranean culture far into the future.
What is the MedFish4Ever declaration?

MedFish4Ever aims to secure the long-term environmental, economic and social sustainability of Mediterranean fisheries. Signed in March 2017, it's a joint commitment by nations in the region to take decisive steps over the next decade to improve the management and governance of their fisheries. You can find the full MedFish4Ever declaration here.
"MedFish4Ever is a 10-year commitment, and we still have eight years to go. I am glad to see there is still a strong will from signing countries to keep going and strengthen efforts to reach the objectives we have agreed," declared Abdellah Srour, Executive Secretary of the GFCM.
The first two years since the MedFish4Ever declaration have seen some notable advances for Mediterranean fisheries and aquaculture, under GFCM leadership:
Two action-based mid-term strategies – one for fisheries and one for aquaculture – are well under way throughout the region. Shared technology, innovation knowledge and best practice underpin the success of these strategies.
Data collection and research have mushroomed, with a tripling of the number of stocks assessed. In parallel, an ambitious programme of surveys at sea is building accurate real-time information.

Vulnerable marine ecosystems and essential habitats are being studied and protected – notably in the cases of European eel, red coral, marine turtles, sharks, cetaceans and sea birds.

Eight multiannual management plans have been launched across the Mediterranean, while the GFCM has also established nine fisheries restricted areas.

Firm initial steps against illegal, unregulated and unreported (IUU) fishing have been taken through a regional plan of action, which gives special assistance to less-developed countries. Inspectors have been trained, more inspections are carried out in key fisheries, and work on a centralized VMS and control system is ongoing.

A regional plan of action was also launched to support the sustainable small-scale fisheries sector, targeting areas including scientific research, co-management and social development.

GFCM subregional units are being established in Burgas, Beirut, Tunis, Split and Malaga to provide strategic and technical assistance to contracting parties.

Cooperation and partnerships have increased and become more effective thanks to 15 Memoranda of Understanding now signed with organizations working in related fields.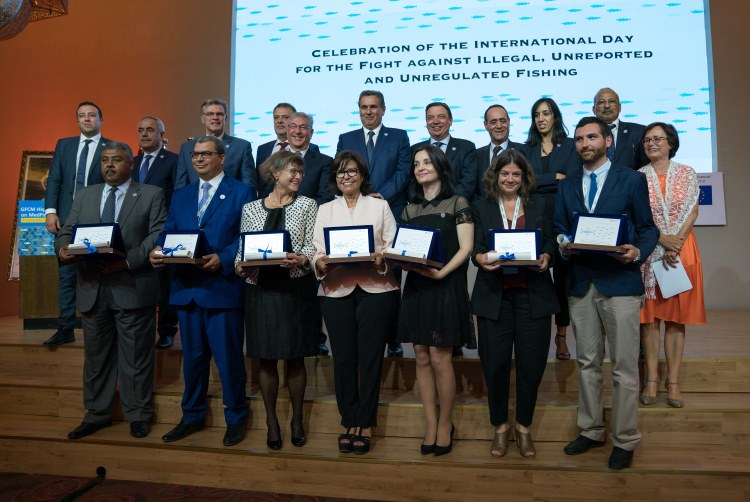 But despite these successes, equally clear is the size of the challenges that remain. Mediterranean fisheries are still in a precarious state, with falling catches, dwindling fleets and almost 80 percent of all assessed stocks still overexploited. Urgent advances are needed in several areas to put affairs on a firmer footing.
Participants at the conference agreed to focus their collective efforts on some critical points, and committed to take further action in the following ways: 
Enhancing research and data collection, so management efforts are based on detailed and reliable science;

Curbing IUU fishing, which harms stocks, undermines data and distorts markets; while exacerbating socioeconomic problems on shore;

Improving social protection to reflect the risks and uncertainties of livelihoods in the sector, particularly in small-scale fisher communities;

Securing urgent funding for priority actions towards sustainable fisheries and aquaculture;

Sharing and spreading best fisheries management practices and technologies across the whole region.
"Fisheries and aquaculture are at the heart of the Mediterranean identity, and they make a huge contribution to our society. More than a million people in the region rely on the sector for their livelihoods, and it puts as much as US$12 billion into regional economies each year. Any future vision for the Mediterranean has to include fisheries which are sustainable for the long term, and that's why the new commitments we've seen at this week's MedFish4Ever conference are so crucial," Abdellah Srour concluded. 
More info on the High-level MedFish4Ever Conference 2019
More info on the MedFish4Ever Declaration