Научно-консультативная группа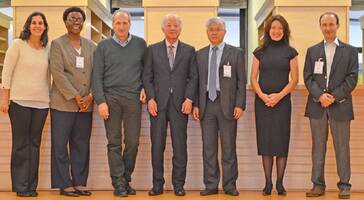 В целях соблюдения научных принципов и разработки новых методов и направлений ГИАХС работа нашей Программы ведется при поддержке группы из семи экспертов различной специализации.
Отбор экспертов – по одному от каждого континента – осуществляется Генеральным директором, срок действия их полномочий составляет два года. В течение всего этого срока эксперты несколько раз в год проводят совещания в штаб-квартире ФАО для решения следующих задач:
- изучение, анализ и оценка сведений, предоставленных по каждой заявке;
- организация посещений каждого потенциального объекта для сопоставления предоставленной информации и ситуации на местах;
- разработка технической документации в целях улучшения понимания программы со стороны потенциальных стран-заявителей;
- предоставление общих ориентиров и научных данных для расширения Программы.
Norma Ruz Varas (She/Her) is a Chilean architect living in Mexico. She holds a Ph.D. and a M.A. in Public Administration, with concentration in territorial planning and land management. She worked as a territorial planning and land management expert for several public and private institutions on issues regarding rural, urban, and environmental planning. She is currently working as a consultant for local and federal agencies advising on topics related to agricultural systems. She has coordinated the research project that led to the designation of the first GIAHS site in Mexico, namely the Chinampas Agricultural System in Mexico City; she has also contributed to the identification of the second potential GIAHS site in Chile and to the development of the first GIAHS proposal in Costa Rica.