Soil salinity mapping and trainings
Global Soil Salinity map released
Launched on 20 October 2021
FAO-GSP launched the Global Soil Salinity map (GSASmap) to update the global and country-level information on salt-affected soils and lay ground for future periodic monitoring.
Global Soil Salinity Trainings
Capacity development at global scale
Through eight regional trainings, the capacity development programme organized by FAO-GSP, reached 70 countries and 400 experts with the objective to produce a global salinity map.
Soil Doctors and Salinity
Salinity in farmer-to-farmer trainings
The programme provides soil doctors with training, educational material and soil testing kits to build capacity on the principle of soil science and promote sustainable soil management.
Global Status of Salt-Affected Soils
FAO publication on the global status of salt-affected soils
The report on the Global Status of Salt-Affected Soils is focused on the salt-affected soils extent and intensity of salt levels in the soil at the national, regional and global scales.
Global Symposium on Salt-affected Soils
20-22 October 2021, Virtual format
The Symposium was a science-policy meeting, organized by FAO-GSP, ITPS, SPI-UNCCD, the Government of the Republic of Uzbekistan, the International Union of Soil Sciences (IUSS), the International Center on Biosaline Agriculture (ICBA), the International Network of Salt-Affected Soils (INSAS), and the Global Framework on Water Scarcity in Agriculture (WASAG).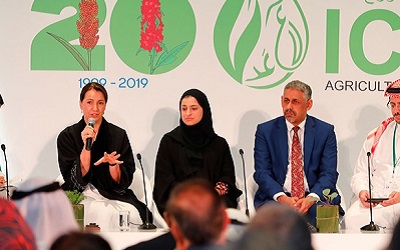 International Network on Salt-affected Soils
Launched at the Center on Biosaline Agriculture
The International Network of Salt-Affected Soils (INSAS), launched during ICBA's first Global Forum on Innovations for Marginal Environments, aims to facilitate the sustainable and productive use of salt-affected soils for the current and future generations.
Capacity development saline soil management
Handbook and training on salinity in Eurasia
The capacity development training organized by FAO-GSP, Eurasian Center for Food Security, NSC ISSAR was held on 26-29 September 2017 in Kharkiv, Ukraine for Eurasia with the objective to train on efforts and technologies to sustainably manage saline soils.
Call for projects for Eurasian countries
FAO-GSP and Eurasian Center for Food Security
Eurasia characterizes for salt-affected soils that put at risk food security and the achievement of the SDGs. Two calls for projects on soil research and on soil salinity mitigation and adaptation are launched annually to facilitate targeted research and partnerships.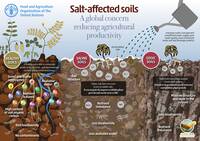 Soils affected by salinity and sodicity undergo a rapid decline of health, losing their capacity for biomass production, natural filtration, carbon sequestration and other necessary ecosystem functions.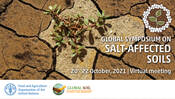 This high-level science-policy meeting #GSAS21 "Halt soil salinization, boost soil productivity" will be held in a virtual format from 20 to 22 October 2021.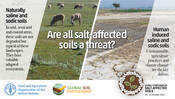 The differences between naturally saline and sodic soils and human-induced salinization and sodification.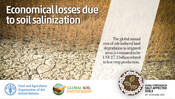 The global annual cost of salt-induced land degradation in irrigated areas is estimated to be USD 27.3 billion related to lost crop production.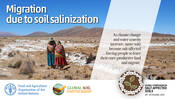 As climate change and water scarcity increase, more soils become salt-affected...forcing people to leave their once productive land and migrate.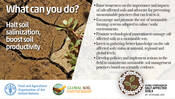 Raise awareness, promote the use of sustainable farming systems, invest in gathering better knowledge...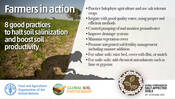 Eight good practices to halt soil salinization and boost soil productivity: Practice halophytic agriculture, irrigate with good quality water...