Utrecht, The Netherlands
Background
Utrecht is the fourth largest city in the Netherlands and home to 334 176 (1 January 2015) inhabitants. Located in the centre of the Netherlands, it forms an important infrastructure and economic hub. The Utrecht City Region (made up of the City of Utrecht and nine surrounding municipalities) is largely urbanised, albeit with remaining areas for agricultural production (mainly dairy and fruit production) and nature conservation (park estates, forest and open areas). Compared to expected national population growth, the Utrecht Region has a much higher expected growth rate of 14 percent until 2030. Current production in the city region, provides at most 5–10 percent of all the food consumed in the region. The number of distributors that explicitly provide regional and local food is currently quite small, although there is potential for specifically increased local processing and marketing.
Consumer interest to buy regional, seasonal and organic food is quite high (varying from 18-65 percent respectively). However at the same time, there are increasing concerns with regards to diet-related health issues, including high incidences of obesity and diabetes.
The Utrecht city region

The Utrecht City Region, also called U10, is made up of the City of Utrecht and nine surrounding municipalities. ) U10 is an existing network of municipalities that already takes joint decisions and implements (policy) actions. The U10 region thus offers potential for generating food policy processes at a territorial scale.
Main challenges of the Utrecht city region food system
An assessment of the current status and performance of the Utrecht Regional Food System was conducted by the RUAF Foundation in collaboration with the City of Utrecht and other engaged stakeholders. It highlighted 4 key priorities: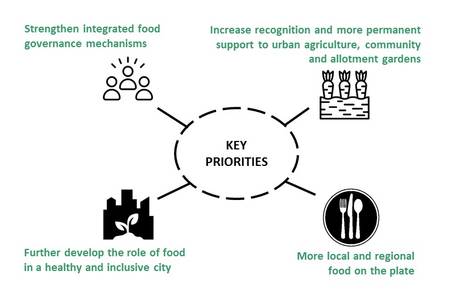 More local and regional food on the plate: Actively support local and regional food markets and thereby contribute to a more robust city region food system. Developing regional food markets requires improved coordination between urban food demand and supply of regional food products from farm businesses located in surrounding municipalities. This requires increased collaboration and coordinated action between the 10 municipalities in the U10 region and with the Province of Utrecht. In addition, clearer targets for the share of regional foodin public food services and procurement could be set.
Further develop the role of food in a healthy and inclusive city: Utrecht municipality has adopted "healthy urban living" as the main framework for food policy and is developing various food related policy actions. However, links between food, health, education and social inclusion policies require further strengthening and development. Development and monitoring of related indicators can support further policy formulation and implementation.
Increase recognition and more permanent support to urban agriculture, community and allotment gardens: Many professional urban agriculture businesses are fragile and rely on financial remuneration for social and health services from – often temporary – policy schemes. Development and testing of mechanisms that measure and remunerate social and ecological services provided by urban agriculture is needed, along with initiatives that strengthen corresponding business models.
Strengthen integrated food governance mechanisms: There is a need to further develop mechanisms for integrated food governance within the municipality of Utrecht and the overall Utrecht region. This involves both the integration between different policy sectors within the municipality, as well as coordination and collaboration among municipalities and other public authorities within the U10 region. Also, mechanisms are needed for inclusive and participatory food governance that involve stakeholders from civil society and private sector actors. Their engagement in regional food policies and strategies will enhance their effectiveness and societal support.
The way forward
Within a multi-stakeholder and participatory process, some key recommendations have been identified to strengthen the Utrecht city region food system. These include:

Expand (spatialized) and open-source data collection on the regional food system
Facilitate a robust and multi-stakeholder regional food network and common food agenda
Further create a healthy food environment by exploring the use of innovative award schemes, zoning bylaws and the enhancing the access of vulnerable groups to urban agriculture and community gardens.