Food security is dependent on water security. And water security is dependent on forests. Approximately 75 percent of the world's accessible freshwater for agricultural, domestic, industrial and environmental uses comes from forests, with a large number of the world's cities relying on forested watersheds for their water supply. Forests and trees are essential to maintaining resilient production systems, communities and ecosystems. They are vital to our water supply, providing high quality water resources: they intercept atmospheric moisture, contribute to cloud and rain formation, reduce erosion and recharge groundwater. However, changes in climate and land-use are contributing to altered groundwater and base flows locally, and precipitation regionally. Global hydrosheds - major watersheds - have experienced 40 percent tree cover loss, resulting in increased risk to water stress, erosion and forest fires.
With approximately 80% of the world population facing water insecurity, the management of forests for water is increasingly important. Using forests to produce high quality water can cost as low as $2 per person per year. Yet, 75 percent of the world's forests are not managed for water conservation. The relationship between forest and water resources needs to be addressed through integrated management and policies, supported by scientific understanding.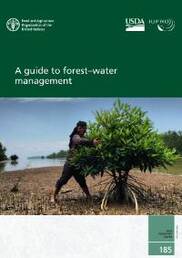 Forests and trees are integral to the global water cycle and therefore vital for water security – they regulate water quantity, quality, and timing and provide protective functions against (for example) soil and coastal erosion, flooding, and avalanches.
The purpose of A Guide to Forest–Water Management is to improve the global information base on the protective functions of forests for soil and water. It reviews emerging techniques and methodologies, provides guidance and recommendations on how to manage forests for their water ecosystem services, and offers insights into the business and economic cases for managing forests for water ecosystem services.
Intact native forests and well-managed planted forests can be a relatively cheap approach to water management while generating multiple co-benefits. Water security is a significant global challenge, but this paper argues that water-centered forests can provide nature-based solutions to ensuring global water resilience.