Peatlands and organic soils
Peatlands are wetlands with a thick layer of organic soil. Peatlands cover only three percent of the global land area, but they store 30 percent of the world's soil carbon.
In many parts of the world peatlands are drained and used for agriculture and forestry. When drained, peatlands become net sources of greenhouse gas (GHG) emissions. According to FAOSTAT estimates they contribute up to 1 Gigaton of GHG emissions per year through oxidation. This makes them the third largest emitter after crop and livestock agriculture and net forest conversion.
In addition, draining peatlands changes vegetation cover, erodes biodiversity, lowers water quality, increases the frequency of fires, causes land subsidence and can lead to other negative environmental consequences.
Rewetting and the responsible management of peatlands can help maintain peatland ecosystem services while supporting the improvement of local livelihoods and their adaptation to the changing conditions. For example, rewetting of already drained peatlands ensures that the once drained peatlands adapt to face climate change: conserving biodiversity, regenerating vegetation, replenishing freshwater resources as well as reducing GHG emissions.
Further information can be found in our Resources section. The MICCA programme provides knowledge and raises awareness about peatlands ecosystem services and the consequences of drainage.
Our collection of case studies helps to evaluate different peatland management options. MICCA's latest publication Towards climate responsible peatlands management presents guidance for responsible management practices.
Organic soils and peatlands climate change mitigation initiative
The initiative is committed to reducing GHG emissions from peatlands and safeguarding other vital ecosystem services that peatlands provide. In 2012 the Organic soils and peatlands climate change mitigation initiative was launched by FAO, the MICCA Programme and Wetlands International.
Ten institutions are currently involved: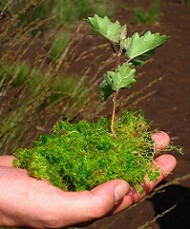 FAO, Wetlands International, Greifswald University, IUCN UK, Global Research Alliance on Agricultural Greenhouse Gases, the Centre for International Forestry Research (CIFOR), Global Environment Centre (GEC), the International Centre for Integrated Mountain Development (ICIMOD), Michael Succow Foundation and the University of Helsinki.