2017: MICCA, in collaboration with the Partnership for Transparency in the Paris Agreement and the Institut de la Francophonie pour le développement durable (IFDD), co-organized the 7th workshop of the Cluster Francophone at FAO HQ in Rome, Italy, from 28 to 30 August 2017.
The three day workshop gathered 57 participants from 22 French-speaking countries from Africa (Algerie, Benin, Burkina Faso, Burundi, Cameroun, Comores, Cote d'Ivoire, Djibouti, Gabon, Madagascar, Mali, Niger, République Centrafricaine, DRC, Guinée, Congo B., Tunisie, Rwanda, Morocco, Sénégal, Seychelles) plus Liban and Haiti, and other experts who addressed the issue of "The inventory of GHG emissions for the energy and AFOLU sectors, as a basic element for updating and monitoring NDCs".
The workshop offered participants a great chance to fruitfully exchange on the differences and similarities between inventory systems in other countries of the Cluster, but also to hear about the latest developments on the transparency in the Paris agreement and the funding and capacity building tools provided by international agencies.
More information can be found here
2017: The 2017 UNFCCC-GIR-CASTT Programme on Greenhouse Gases workshop has been organized by the Greenhouse Gas Inventory and Research Center of Korea and the UNFCCC secretariat with the collaboration of FAO. It took place from 26 June to 20 July in Seoul, Republic of Korea.
The workshop has built capacity on GHG inventory preparation for developing countries. MICCA has exclusively and entirely covered the AFOLU component of the workshop. A total of 28 trainees from 28 countries successfully completed the training.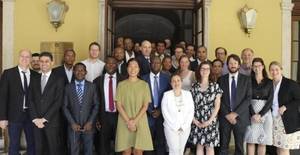 2017: In the framework of the Cluster Lusophone of the Partnership on Transparency in the Paris Agreement, UNDP/UNEP Global Support Program (GSP), the Governments of Brazil, Belgium and Germany, with the additional support of the Community of Portuguese Language Countries (CPLP) and the Portuguese Government, invited MICCA to participate to the first workshop on Monitoring, Reporting and Verification (MRV) and transparency framework, in Lisbon, 19-21 June 2017.
The MICCA team provided technical support to the main topics of the workshop, namely transparency and MRV under the UNFCCC and the Paris Agreement, the institutional framework for transparency, inventories of GHG and IPCC guidelines and the process of International Consultation and Analysis (ICA).
The three day workshop gathered participants from 7 Portuguese-speaking countries from Africa (Angola, Cabo Verde, Guinea Bissau, Mozambique, São Tomé and Príncipe), Latina America (Brazil) and Asia (Timor Est), which had the opportunity to exchange experiences and lessons learnt among each other, fostering south-south and north-south collaboration and peer to peer support.
More information can be found here.