Increasing investment in agriculture is critical to achieving Zero Hunger and reducing poverty. However, not only more but better investments are required—investments that sustainably benefit livelihoods, the environment and communities.

To encourage responsible investment in agriculture and food systems, FAO works through a needs-driven Umbrella Programme to engage with governments, small-scale producers, civil society, academia and the private sector. Key Programme activities include raising awareness, building capacities, and supporting the application of international guidance instruments such as the Principles for Responsible Investment in Agriculture and Food Systems (CFS-RAI Principles).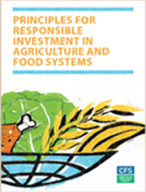 The CFS-RAI Principles were developed through an inclusive international and intergovernmental multi-stakeholder process in the Committee on World Food Security. Endorsed by the CFS in 2014, it represents the most comprehensive international guidance instrument for agricultural investments. It has a broad scope, covering all kinds of investments in agricultural value chains and food systems, and encompassing all stakeholders that are involved in, benefit from, or are affected by agricultural investments. The CFS RAI principles build on existing instruments including the Voluntary Guidelines on the Responsible Governance of Tenure (VGGT), the Voluntary Guidelines on the Right to Food, and others.