FIGARO Flexible and Precise irrigation Platform to improve Farm scale Water Productivity
The FIGARO project is a European wide research project, which aims to increase water productivity in water-demanding crops through the development of a precision irrigation platform that allows growers to benefit from cutting-edge developments in irrigation technology. The FIGARO platform improves the efficiency of water use at farm scale level.
The efficient and effective use of water in irrigation systems is of critical importance for sustainable agricultural development, food security and overall economic growth, particularly in light of global population increase, climate change and the competing demand for water from other economic sectors. The decreased availability of freshwater for agriculture and the increased energy costs represent a challenge and a priority for generations to come.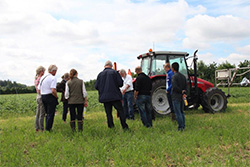 The FIGARO platform developed by the FIGARO Consortium composed of 17 partners, allows growers to optimize the use of water in their farms. These water savings benefit the growers, the wider community and the environment, not only improving growers' productivity, but also helping to ensure food security and environmental quality for generations to come.
The platform has been tested for three years in 11 field sites in different countries, climates, soils and using different crops, to ensure that the system is efficient and of great potential benefit for growers. The results demonstrate that the FIGARO irrigation platform significantly contributes to:
OPTIMIZING THE USE OF IRRIGATION WATER
OPTIMIZING ENERGY CONSUMPTION
INCREASING WATER PRODUCTIVITY
The FIGARO project is co-funded by the European Commission under the 7th Framework Programme (FP7) for Research and Technological Development. It is comprised of 17 organizations from eight different countries, including a number of academic and commercial leaders in the field of irrigation.