Publications and documents
Early Action to safeguard lives and livestock based livelihoods against potential Dzud in drought affected pastoralist areas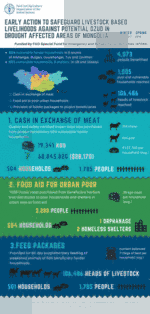 Using FAO Special Fund for Emergency and Rehabilitation Activities (SFERA) FAO Mongolia secured US$290.000 to implement early actions to protect the livelihoods of 500 vulnerable herder households across five soums in five different aimags where there is high risk of dzud, as well as to provide food aid. The project is focusing on three early actions.
The first is to provide cash to the target vulnerable herder households in exchange for frozen certified meat to enable them to buy hay or other essentials in the beginning of the hard winter period;
Secondly, the distribution of meat purchased from these vulnerable herder households as food-aid to the most desperately poor urban household;
The third activity is to supply livestock fodder packages to the target herder households. These extra resources to ensure key breeding stock can survive the harsh winter and spring.