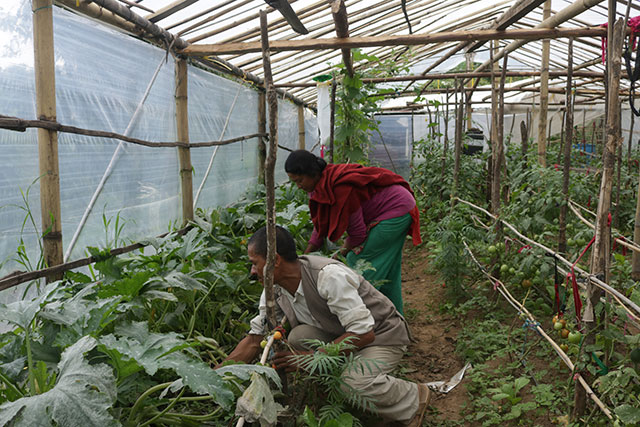 FAO supports long-term recovery in Nepal through local farmers' cooperatives
Tags
:
NEPAL
,
ASIA
,
NEPAL EARTHQUAKES
,
RESPONSE
,
EARTHQUAKE
,
LIVESTOCK
,
SEEDS
,
LIVELIHOODS
,
REHABILITATION
,
IRRIGATION
,
29/08/2016
Yam Bahadur Shrestha, 40, is a member of the local farmers' cooperative, Shree Lapse Agricultural Cooperative Limited, in the Sindhupalchowk district of Nepal – an area hit hard by the 2015 earthquakes. Yam, chairperson of the cooperative since 2014, spoke about the farmers' struggles and the path towards long-term recovery and resilience building.
"The earthquakes caused numerous cracks in farmlands and the land would not retain water. We had to use gravel and soil to fix the holes before we could plant vegetables," he said. The cooperative, established in 2010 and featuring 85 shareholders, is one of 149 farmers' cooperatives in Sindhupalchowk and one of 21 that directly benefited from FAO activities.
In Lapse, farmers produce rice, maize, wheat, potatoes and vegetables, including off-season vegetables. Households mainly consume the grain throughout the year, though farmers sometimes exchange seeds for other grains. However, the farmers sell their cash crops and vegetables through the cooperative, which is their main livelihood source.
"Selling vegetables through the cooperative guarantees the market price for our products, and nothing goes to waste no matter what the market demand is," said Yam, whose cooperative sells to vendors in Kathmandu. "It is far better than selling individually, because we have a stronger voice over the price." He also said that shareholding members contribute 2 percent of their total income each month to the cooperative's savings.
The earthquakes that struck in 2015 not only destroyed farmers' homes, but also their storage. FAO distributed grain storage bags in the early stages of the operation, which were replaced by durable metal bins during the second distribution.
"Receiving grain and metal bins allowed farmers to safely store the seeds, including those that were recuperated from the rubble," said Yam. "Also, the rehabilitation of the small-scale irrigation schemes and distribution of mini-tillers were the two most appreciated activities because they allowed farmers to continue their production."
Using the mini-tiller to plant his rice not only saved Yam time, but also money by not having to hire oxen. Cooperative members can rent the mini-tiller for a fee established by the group. That fee is then deposited into the cooperative's savings, which can be used towards maintenance of the machine, when necessary.
The Government and local partners have praised FAO's work through the local farmers' cooperative. Going through such cooperatives helps ensure decisions, such as who receives inputs, are made democratically, and that the technical knowledge developed through the training and capacity building activities is well preserved and accessible to the local farmers.
The FAO Emergency Response Programme, supported by the Governments of Belgium, Canada, Italy and Norway, has assisted 1.5 million people, providing quake-affected smallholder farmers with inputs to resume their agricultural-based livelihoods and to protect the health of their livestock.