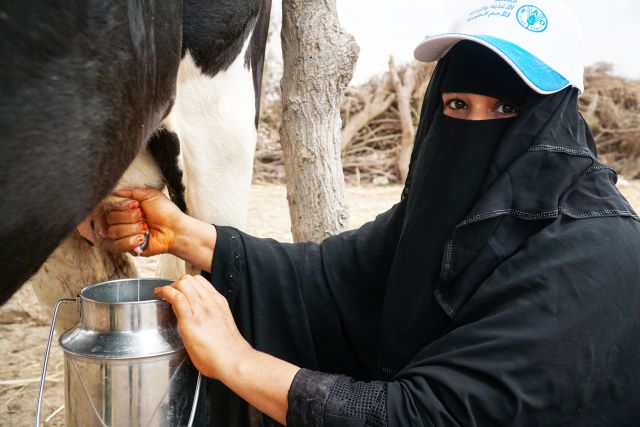 FAO provides livestock inputs for rural families to sustain food production amidst soaring levels of food insecurity
Tags
:
YEMEN
,
NEAR EAST
,
FOOD INSECURITY
,
VULNERABLE COMMUNITIES
,
LIVESTOCK
,
LIVELIHOODS
,
RESILIENCE
,
RESOURCE PARTNERS
,
EU
,
SWEDEN
,
20/04/2021
The livestock sector in Yemen has been significantly affected by a conflict spanning six years, yet it is one of the remaining lifelines and income sources for the rural population. To increase the resilience of vulnerable livestock-dependent households, the Food and Agriculture Organization of the United Nations (FAO) is distributing livestock input packages to over 11,500 livestock farmers in Yemen's Abyan and Lahj governorates.
The input packages, which include 340 metric tonnes of wheat bran, 690 metric tonnes of feed block and 400 metric tonnes of molasses, are being distributed as part of a three-year programme titled "Supporting Resilient Livelihoods and Food Security in Yemen (ERRY II)". The programme is implemented jointly with the International Labour Organization (ILO), the United Nations Development Programme (UNDP) and the World Food Programme (WFP)with funding from the European Union (EU) and the Swedish International Development Cooperation Agency (SIDA). 

[...read the full STORY]