Food and nutrition security resilience programme in the Sudan: Baseline report
Tags
:
SUDAN
,
NORTHERN AFRICA
,
FNS-REPRO
,
CONFLICT
,
FOOD INSECURITY
,
FOOD SECURITY
,
LIVELIHOODS
,
PEACEBUILDING
,
RESOURCE PARTNERS
,
NETHERLANDS
,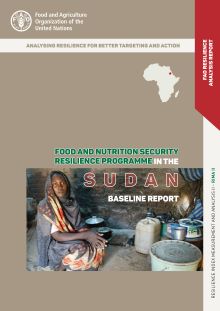 Aug 2021
This report acts as a baseline for the Food and Nutrition Security Resilience Programme (FNS-REPRO) of FAO, which is a four-year programme of USD 28 million funded by the Government of the Netherlands, that contributes directly to the operationalization of the United Nations Security Council 2417 by addressing the "cause-effect" relationship between conflict and food insecurity in Somaliland, Sudan (Darfur) and South Sudan. The programme, which became operational in October 2019, is designed to foster peace and food security at scale through a multi-year livelihood- and resilience-based approach. The FNS-REPRO component in Sudan focuses on supporting the production and value chain of gum Arabic. In Sudan, the programme is implemented in the North and East Darfur states.
The purpose of the study is to collect baseline values for identified project indicators, which will be tracked over time and used to establish the impact of the project. In addition, it identifies and documents lessons learned that will facilitate the continuous realignment of the current project's theory of change and assist in defining and designing similar future food security projects in Sudan as well as in other parts of the world with similar contexts.
This baseline provides characteristics of the gum Arabic production and gum Arabic-producing households in the project area. Among others, it was estimated that 23 percent of the households in the study area were involved in gum Arabic production, of which 90 percent were male-headed households. Strategies to facilitate the participation of female-headed households in this value chain are critical. Households involved in gum Arabic production had limited access to information on gum Arabic production and prices. Furthermore, the households in the area received little to no training on aspects of gum Arabic production. This calls for an evaluation and improvement of agricultural extension services for the gum Arabic producers, which will assist in streamlining good agricultural practices among gum Arabic farmers.

Food and nutrition security resilience programme in the Sudan: Baseline report