EMPRES-i: a powerful global tool for controlling major animal diseases
Tags
:
ANIMAL DISEASE
,
EARLY WARNING SYSTEMS
,
TECHNOLOGY
,
TOOLS
,
INFORMATION
,
GLEWS
,
WHO
,
OIE
,
RESILIENCE
,
FOOD CHAIN CRISIS
,
FCC-EMPRES
,
FCC-EMPRES INFORMATION SHEET
,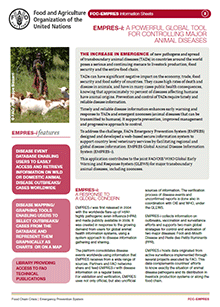 Mar 2015
The increase in emergence of new pathogens and spread of transboundary animal diseases (TADs) in countries around the world
poses a serious and continuing menace to livestock production, food security and the entire food chain.
TADs can have significant negative impact on the economy, trade, food security and food safety of countries. They cause high rates of death and disease in animals, and have in many cases public health consequences, knowing that approximately 70 percent of diseases affecting humans have animal origins. Prevention and control of TADs require timely and reliable disease information.
Timely and reliable disease information enhances early warning and response to TADs and emergent zoonoses (animal diseases that can be transmitted to humans). It supports prevention, improved management and progressive approach to control.
To address the challenge, FAO's Emergency Prevention System (EMPRES) designed and developed a web-based secure information system to support country level veterinary services by facilitating regional and global disease information: EMPRES Global Animal Disease Information System (EMPRES-i). This application contributes to the joint FAO/OIE/WHO Global Early Warning and Response System (GLEWS) for major transboundary animal diseases, including zoonoses.

EMPRES-i: a powerful global tool for controlling major animal diseases