Soil Legacy Reports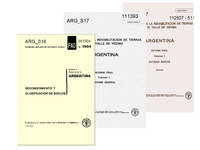 Since the early 1950's FAO has been committed to give technical assistance to member countries in soil matters. Hundreds of soil survey field projects have been carried out over the years and a considerable number of soil survey reports have been prepared and published as grey litterature.
This information has been scanned and is made available here together with links to other institutes and organizations who have similar collections.
Kindly note that the below search module does not work with Google Chrome.
Search our collection of Soil Legacy Reports
| | | | | | | |
| --- | --- | --- | --- | --- | --- | --- |
| ARGENTINA | | 1966 | BUENOS AIRES ARGENTINA | 87 | FAO UNESCO P.H.ETCHEVEHERE J.C. Musto | ENGLISH/SPANISH |
| ARGENTINA | | 1970 | ROME, ITALY | 159 | FAO/UNDP | SPANISH |
| ARGENTINA | | 1969 | ROME, ITALY | 200 | FAO/UNDP | SPANISH |
| ARGENTINA | | 1969 | ROME, ITALY | 91 | FAO/UNDP | SPANISH |
| ARGENTINA | | 1970 | ROME, ITALY | 248 | FAO/UNDP | SPANISH |
| ARGENTINA | | 1967 | RIO NEGRO PROVINCE | 140 | FAO and UNDP R. K . RADWAN | ENGLISH |
| ARGENTINA | | | Washington DC | 131 | CIDA | SPANISH |
| BAHRAIN | | 1983 | ROME, ITALY | 180 | FAO, S.A. Amer | ENGLISH |
| BANGLADESH | | 1982 | Dacca, Bangladesh | 34 | FAO, UNDP, Tjapko Jager | ENGLISH |
| BANGLADESH | | 1985 | DHAKA, Bangladesh | 82 | FAO, UNDP, Akbar Ali | ENGLISH |