Последние новости
07 November 2022
- The ASTA project in Suriname is posting two positions find managers for a pineapple innovation Hub, which will be set up as a one-stop-shop for all producer needs in terms of access to inputs, services, finance and technical assistance.The idea ...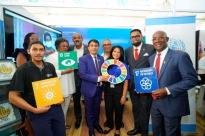 26 October 2022
- At the request of the Ministry of Agriculture, FAO Guyana recently partnered with IICA to host a Gender and Youth Symposium as part of activities that led up to World Food Day 2022. Through this partnership youth and gender activists, ...
Предстоящие события
10 November 2022 to 17 November 2022
- This webinar series is part of technical cooperation programme (TCP) titled "Blockchain andrelated digital technologies for sustainable agrifood value chain development" jointlyimplemented by FAO and MAAIF to assess the potential and improve capacities forblockchain technology application for agrifood value chains in Uganda. ...
12 April 2021 to 12 April 2021
- On 12 April 2021, SFVC D&F organized the webinar where experts from GSMA explored the pivotal role of digital technologies in agricultural value chains, how digital agriculture solutions help facilitate financial inclusion for farmers and the relevance of digital technologies to enabling farmers' access to credit ...