Working with countries is essential to WASAG's mandate. WASAG seeks to match its partners' resources with countries' needs to address water scarcity in agriculture.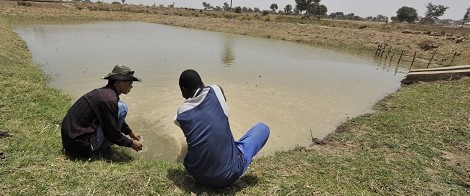 WASAG has received support form the following countries:
CABO VERDE – The Government of Cabo Verde hosted and organized the first and second WASAG International Forum in Praia, Cabo Verde in March 2019 and February 2023, respectively.
CHINA – The Government of China provided its contribution by funding one Associate Professional Officer (APO) designated to the WASAG Support Team.
FLANDERS (BELGIUM) – The Flemish Government has made its inaugural contribution to WASAG's efforts by providing funding through the Flanders Trainee Program (FTP). They have funded one intern to join the WASAG Support Team, marking the beginning of their engagement with WASAG. Read more on the Government of Flanders' contribution to WASAG here.
ISLAMIC REPUBLIC OF IRAN – The Islamic Republic of Iran supports and is a co-leader of the WASAG working group on saline agriculture.
ITALY - The Italian Ministry of Agriculture established an Italian Chapter of WASAG which brings together Italian institutions working in addressing water resources management for agriculture. They are active members of the working group on sustainable agriculture water use and will soon publish a publication on 'pressurized irrigation systems'. They also helped organized the first WASAG International Forum and sponsored scholarship for a Cape Verdean student at CIHEAM Bari.
QUÉBEC (CANADA) – The Government of Québec has funded four interns to join the WASAG Support Team at FAO as part of the Programme de stages en organisations internationales gouvernementales (PSOIG). They continue to support and maintain a close relationship with WASAG. Learn more about how the Government of Québec is contributing to WASAG's work here.
SPAIN - The Government of Spain hosted an International Symposium on the use of nonconventional waters in November 2019 and is promoting a training for irrigation technologies (MoU signed at the 8th World Water Forum).
SWITZERLAND – The Swiss Federal Office for Agriculture (FOAG) has signed a funding agreement to support WASAG and its work for three years (2019-2022), including the first WASAG International Forum. This is a direct follow up on the recommendations of the 26th session of FAO's Committee on Agriculture (COAG). Additionally, the Government of Switzerland has extended its support by funding one Associate Professional Officer (APO) assigned to the WASAG Support Team.