Family farms dominate Nicaragua's agricultural sector
In Nicaragua, WAW's analysis of the IV Cenagro 2011 census allowed us to conduct a typology of the country's farms. Family farms account for 84.4 percent of all Nicaraguan farm holdings, while family business farms account for 15.5 percent. Commercial farming makes up just 0.1 percent of the country's agricultural operations.
There are significant variations within these categories, but these can be filtered by the dominant production systems used. The farm types identified in this manner showed significant asset differences, validating WAW's choice of typological methodology.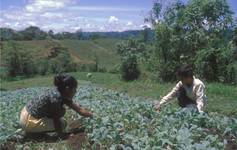 Information gathering using proxy data
In Nicaragua, as is the case with most census results, data on production and income are not available. The classification relies on a proxy based on the dominant product type, as quantified by its contribution to the national accounts or export data.
In this way, it was possible to identify 19 types of family farm, 18 types of family business farm and 14 types of commercial farm. The farm types differ statistically in terms of assets (physical, human and natural capital) used.

The allocation of family labour to agriculture is an essential indicator when estimating the role of agriculture to a family economy. Using permanent waged workers is an indicator of available capital in circulation and of higher social status.
However, as in so many censuses, labour data are poorly documented, so a proxy is also required here. Of the farm types identified, three are non-market producers who grow primarily for their families. These account for 7.5 percent of all holdings, or 19 530 farms.