Participation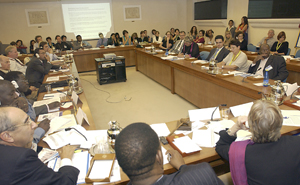 Participants in the symposium will be representatives of governments, United Nations bodies and specialized agencies, intergovernmental organizations and non-state actors. This last group includes the representatives of civil society organizations; private sector entities (including philanthropic foundations); academia and research institutions; and cooperatives and producer organizations.
Representatives of governments, UN bodies/specialized agencies and intergovernmental organizations:
Invitations will be sent by FAO's Conference, Council and Protocol Affairs Division.
Invitations to governments are expected to be sent towards the end of November.
Representatives of non-state actors (NSAs):
Can express their interest in attending the symposium through an online registration form available on the website of FAO's Office for Partnerships, Advocacy and Capacity Development.
Registration is open from 26 October to the deadline, 31 December 2015.
The registration form, as well as criteria for participation of NSAs, is available at www.fao.org/partnerships/details-events/en/c/338318/.
NOTE: It is expected that there will be up to 400 participants in the symposium. FAO is unable to fund participants.