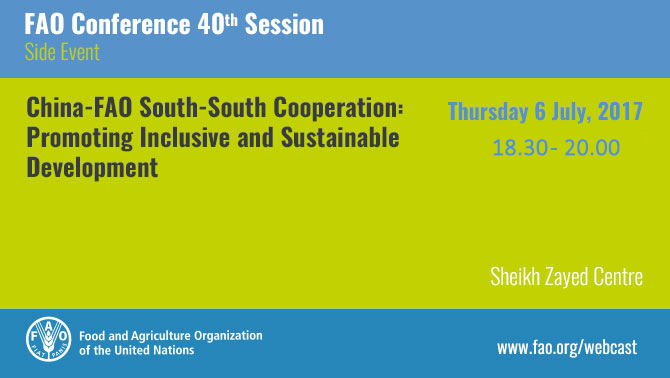 webcast/home/en/item/4394/icode/Video on Demand
South-South Cooperation (SSC) under the FAO framework has gone through more than 20 years since FAO officially launched the Special Programme for Food Security (SPFS) in 1996. Over the past 20 years, FAO has coordinated the international community to explore effective ways to address food security threats in underdeveloped countries, which made important contributions to improving agricultural productivity and food security in developing countries. China, as a significant participant and active supporter of FAO SSC programme, has witnessed the burgeoning development of SSC with FAO and other partners.
In addition to assisting the publicity of the conference, the side event aims to share achievements and experience and improve the worldwide understanding of FAO SSC programme, further to extend global SSC partnership, promote SSC and tripartite cooperation to implement the 2030 Agenda for Sustainable Development of the United Nations.