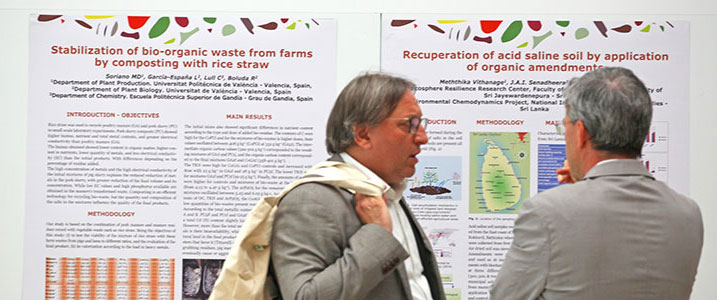 Posters
Agronomic feasibility of bioenergy crop cultivation on polluted soils: insights and opportunities for land use design and environmental suitability – Mr. Giuseppe Pulighe, CREA, Italy.
Animal and anthropogenic pressures on agricultural soils from Shiga Toxin producing E. coli (STEC): impact on food safety and food security – Mr. Gianfranco Brambilla Istituto Superiore di sanità, Italy.
Application of Health Belief Model in pesticide pollution: a case study from Nepal – Ms. Govinda Bhandari, Wageningen University and Research, The Netherlands.
Assessment of ecological state of the halogenic technosoils in the former well drilling site using biological indicators – Ms. Oksana Naidonova, Institute for Soil Science and Agrochemistry Research named after O.N. Sokolovsky', Ukraine.
Assessment of pesticides in soil from obsolete pesticides stores: a Caribbean case study – Mr. Gaius D. Eudoxie, UWI, Trinidad and Tobago.
Bio-solids from Bugolobi wastewater treatment plant, Uganda do not meet the minimum standards for land application – Mr. Julius Lubuulwa, School of Agricultural Sciences Makerere University, Uganda.
Cadmium management in New Zealand agricultural soils – Ms. Jo-Anne E Cavanagh Manaaki-Whenua Landcare Research, New Zealand.
Current hygienic state of agricultural soils based on soil monitoring system in Slovakia – Mr. Josef Kobza, National Agricultural and Food Centre – Soil Science and Conservation Research Institute, Bratislava, Slovakia.
Deterioration of soil quality of tropical home gardens - a case study from Kerala, India – Mr. G. Lakshmi, School of Environmental Studies, India.
Development of alert systems on sanitary and environmental risks related to pesticides (asser-pesticides) of the Niayes area – Ms. Marie Ndao, Fondation CERES-Locustox, Senegal.
Effect of Combined Application of Subsurface Drainage and Mineral Fertilization on Iron-Reducing Bacterial Populations' Developments and Fe2+ Uptake by Two RiceVarieties in an Iron Toxic Paddy Soil of Burkina Faso (West Africa) – Ms. Cécile Harmonie Otoidobiga, University of Ouagadougou, Burkina Faso.
Effect on growth and development of Eisenia foetida of a broad spectrum herbicide – Ms. Laura García-España, UPV, Spain.
Environmental fate and off-site impacts of pesticides – case study of the São Lourenço do Bairro sub-basin, Portugal – Ms. Vera Silva Wageningen University and Research, The Netherlands.
Erosion as a pollution factor of agricultural soils with copper compounds – Ms. Tamara Leah, Institute of Soil Science, Agrochemistry and Soil Protection "Nicolae Dimo", Moldova.
Geostatistical analyzes of heavy metals in soil of Zaida mine (Hight Moulouya, Morocco) – Ms. Meriem Laghlimi, Agronomic and Veterinary Institute, Morocco.
Halogenic technosoils within oil and gas fields of Ukraine – Ms. Olena Drozd, Kharkiv National University of Municipal Economy named after O. M. Beketov, Ukraine.
Heavy metal mobility and PAHs extractability relationships with soil hydrophobicity in coal ash reclaimed technogenic soils (Technosols) – Ms. Irena D. Atanassova, Agrotechnologies and Plant Protection Sofia, Bulgaria.
Heavy metals concentrations in composts and substrates used to production of vegetables in Cuba's urban agriculture – Ms. Mirelys Rodríguez Alfaro, Departamento de Suelos y Fertilizantes, Ministerio de la Agricultura, Cuba.
Influence of irrigation waters on heavy metals pollution of agricultural soils in a Mediterranean alluvial plain (Valencia, Spain) – Mr. Vicente Andreu, Centro de Investigaciones sobre Desertificación-CIDE, Spain.
Initial approach for phytoremediation of petroleum hydrocarbons-mixed soil at oil industry in Skopje region – Ms. Silvana Manasievska-Simikj, Faculty of Agricultural Sciences and Food, Macedonia.
Is agricultural production of the upper basin of Pergamino stream responsible for soils and water degradation? – Mr. Luis A. Milesi Delaye, INTA, Argentina.
Management of contaminated groundwater in the Netherlands – Mr. Co Molenaar, Ministry of Infrastructure and Water management, Netherlands.
Modelling silver nanoparticles transport with runoff water and erosion using the LISEM and PestPost models – Mr. Karrar N.M. Mahdi, Wageningen University and Research, The Netherlands.
Multi-isotope fingerprints to identify agricultural contaminants from soil to water bodies – Mr. Joseph Adu-Gyamfi, IAEA, Austria.
Nutrient risk management using organic manures in radish production at chitwan, Nepal – Mr. Roshan Babu Ojha, Nepal Agricultural Research Council, Nepal.
Optimization of hydrocarbons biodegradation by bacterial strains isolated from wastewaters in Ouagadougou, Burkina Faso: Case study of SAE 40/50 used oils and diesel – Mr. Adama Sawadogo, University of Ouagadougou, Burkina Faso.
Photochemically-induced fluorescence (PIF) and UV-VIS absorption determination of diuron, kinetic of photodegradation and rate of leach ability in soils – Mr. Diène Diégane Thiaré, Université Cheikh Anta Diop, Senegal.
Phytoremediation of lead and cadmium in spent engine oil contaminated medium using plantlets and seedlings of nauclea diderrichii (De Wild. & T. Durand) Merrill – Ms. Oluwayomi I. Bolanle-Ojo, Forest Research Institute of Nigeria, Nigeria.
Pollution of agricultural soils with heavy metals through irrigation water in Eastern Georgia – Mr. Giorgi Ghambashidze, Scientific-Research Centre of Agriculture, Georgia.
Possible pathways for Microplastics transport through soil and leaching to groundwater – Ms. Miao Yu, Soil Physics and Land Management Group, Wageningen University & Research, Netherlands.
Potentially toxic element hyperaccumulator plants: preliminary evaluation of the phytoextraction duration to remediate a contaminated agricultural soil by Brassica juncea successive croppings – Mr. Luigi Giuseppe Duri, University of Naples Federico II, Italy.
Recuperation of acid saline soil by application of organic amendments – Ms. Meththika Vithanage, University of Sri Jayewardenepura, Sri Lanka.
Relationships between a mixture of trace elements and enzyme activities are better explained by potentially available fraction – Mr. Juan Pedro Martín-Sanz, Universidad Complutense de Madrid, Spain.
Risk assessment of glyphosate/AMPA in wind-eroded dust derived from agricultural soil in North-Netherlands – Ms. Xiaomei Yang Wageningen University and Research, The Netherlands.
Setting the thresholds for heavy metals based on their background & soil resilience – Mr. Mykola Miroshnychenko, National Scientific Center "Institute for Soil Science and Agrochemistry Research named after O.N.Sokolovsky", Ukraine.
Soil contamination in kitchen gardens of urban areas: the need for comprehensive approaches – Ms. Colinet Gilles Gembloux, Agro Bio-Tech, Belgium.
Soil pollution in urban agriculture can derive from cultivation – Ms. Francesca Bretzel, CNR, Italy.
Soil quality assessment, risk assessment and remediation strategy for a former pesticide distribution center, practical experiences from Tajikistan – Mr. Guido M. Van de Coterlet Tauw bv, The Netherlands.
Soil restoration and management of the UNESCO MAB Maya and Trifinio reserve ecosystems, Guatemala – Ms. Antonethe Castaneda Mena, Secretariat of Planning and Programming, Presidency of Guatemala, Guatemala.
Stabilization of bio-organic waste from farms by composting with rice straw – Ms. Ma Desamparados Soriano, UPV, Spain.
Study of the spatial and temporal dynamics of heavy metals under the effect of erosion depending of the physico-chemical properties of Soil J.Ressas mining environment case study – Ms. Attia Rafla, DG/ACTA, Tunisia.
The bioavailability of cadmium and lead in soil and bioaccumulation in barley from a contaminated soil – Ms. Gabriella Rossi Center for Agriculture and Environment (CREA-AA), Italy.
The Effectiveness of using bioremediation measures to podzolized chernozem, which is contaminated by heavy metals – Ms. Elena Starchenko, Institute for soil science and research named after O.N. Sokolovsky, Ukraine.
The issue of soil pollution solved using organic farming: a case study from Thailand – Mr. Pathawit Chongsermsirisakul Chulalongkong, University and Assumption University, Thailand.
The retention and release of nutrients from polyhalite into the soil – Mr. Timothy D Lewis Sirius Minerals, UK.
The status of heavy metals (Cd, Pb) in the agricultural soils of Iran – Mr. Hamed Rezaei, Soil and Water Research Institute, Iran.
Towards a holistic distributed policy cluster to prevent and remedy soil pollution – Mr. Lal Manavado Norwegian Directorate of Health, Norway.
Uranium, a new villain among the dirty dozen in soil protection – Mr. Ewald Schnug Julius Kuehn-Institut, Germany.
Use of polyamine compounds for the detection of metals such as cadmium, mercury and lead in waters – Ms. Laura Garcia-España, UPV, Spain.
Use of Red Mud as a Pyrolysis Catalyst and a Carbonated Soil Amendment – Ms. Amanda Ashworth, USDA-ARS, US.