Improving governance by building capacity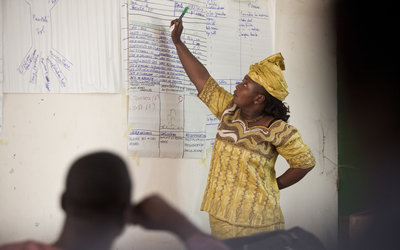 Sharing knowledge is key to governing forests effectively
The demands of a growing global population expected to exceed nine billion people by 2050 are putting increasing pressure on forest land. Climate change is set to aggravate the situation. Whether current governance arrangements can adequately cope, and if and how they need to be re-conceptualized, remain crucial questions. Experience suggests that forests will increasingly require long-term, inter-sectoral approaches and sustainable arrangements negotiated between different stakeholders on how land is governed. With the Sustainable Development Goals set to be in place later this year, there is a window of opportunity to address these issues in a broader context. While there is a general awareness on the "why" and a conceptual basis of "how" to do this, limited capacity exists in practice in many countries.
Read more
Read more
Capacities to more effectively govern the transition to sustainable forestry must be built, learning from experiences in local governance processes. Understanding how national, regional and global processes ̶ including national forest programmes and mechanisms such as FLEGT, REDD+ and the "Forest Instrument" ̶ can better support this transition is equally vital. Knowing how and where to build capacities to connect local and global processes, however, remains a key challenge.
Within this changing governance landscape, public forestry institutions are also changing. How they relate to public and private stakeholders and their rights and responsibilities are shifting. All actors involved need enhanced capacities to deal with these changes, and an awareness that societal needs for forests are also evolving. More capacity however is needed to monitor and anticipate changes in governing forest resources and to communicate with different stakeholders about forests and their use.
Objectives
To reflect on:
capacities needed to change governance of forests to contribute to sustainable development, addressing inter-sectoral sustainability issues
capacities needed to change governance of forests in ways that promote effective transition to sustainable practices, including through international arrangements on forests, national forest programmes, and processes such as FLEGT and REDD+
the changing role of public forestry institutions, and how to build capacities of stakeholders (public and private) that enable and support responsible and sustainable management of forests
how to strengthen capacities for dialogue and communication on forests, in view of society's changing needs