Winner of RFI's Challenge App Africa Announced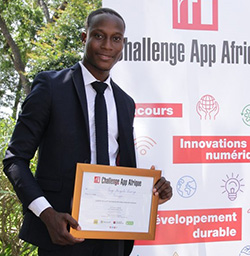 214/11/2018
Serge Auguste Zaonogo from Burkina Faso has won the Radio France Internationale (RFI) Challenge App Africa for his invention 'Saagga' - an electronic mapping system that optimizes irrigation in the agricultural sector, permitting management while on-the-move.
In addition to receiving a monetary prize, Serge Auguste Zaonogo will be offered an Internship with FAO in one of its innovation units (subject to the rules and procedures of FAO and the legal framework that governs its activities)
The RFI Challenge App Africa aims to support and promote the integration of new technologies in the field of sustainable development in Francophone Africa.
From over 300 initial applications, three finalists were selected and invited to present their respective innovations in Cononou, Benin, this week.
Maria Federica Leonarduzzi, who heads Agricultural Services and Digital Inclusion in Africa at the Information Technology Division of FAO, joined an expert jury to assess Cameroon's Tiam Erik Gyslains' entry 'Agropad' - an "intelligent irrigation" project using solar energy as its primary power source controlled remotely via mobile phone; Côte d'Ivoire's Steeve Camara's 'We fly Agri' – an app that operates drones to provide accurate land surveys, and Serge Auguste Zaonogo's 'Saagga' invention – which was ultimately chosen as the Challenge App Africa winner.
FAO's Maria Federica Leonarduzzi was impressed by the level of innovation in the final heat of this year's Challenge and believes that "the information and communication technologies evidenced by the initiatives of 2018's three finalists can positively contribute to sustainable agricultural productivity intensification and rural transformation across Africa - and beyond."
Tune-in to RFI's C'est pas du vent at 16.10 (CET) on Thursday, November 15th or visit www.rfi.fr for more.