Why is legislation relevant for AMR?
Antimicrobial resistance (AMR) is a cross-sectoral issue that needs multiple authorities and the involvement of stakeholders across the sectors to tackle. Addressing antimicrobial use (AMU) and AMR related issues through legislation is a regulatory challenge because of the
expanse of regulatory areas involved,
piecemeal review processes for the adoption of regulatory approaches commonly used by countries, and

continuous scientific developments related to AMR that update the evidence base for informing decisions.
Appropriate legislation can have a very direct impact on the AMU and the regulation of the entire life cycle of antimicrobials. Legislation is essential for turning policy and technical objectives into enforceable provisions, ensure their sustainability, and clarify the roles and responsibilities of governments and other stakeholders in the fight against AMR. It creates a clear framework of reference for all actors and provides for principles and mechanisms that contribute to reduced and mitigated AMR.
It can also help preventing contamination of food and the environment with antimicrobial residues or resistant bacteria, and to monitor, detect and control potential contamination. Finally, effective legislation on animal and plant health and animal welfare can improve the resilience of humans, animals and plants to diseases, minimizing the need for antimicrobials and the opportunities for resistance to develop.
What can legislation do for AMR?

Prevent the introduction of falsified and substandard veterinary medicinal products (VMPs) and monitor the quality of VMPs;

Ensure antimicrobials are labelled with the necessary warnings and instructions;

Serve to differentiate antimicrobials from other 'feed additives';

Limit the non-therapeutic uses of antimicrobials;

Foster alternative options AMU through appropriate legislation;

Control waste potentially contaminated with antimicrobials;

Control residues of antimicrobials in food, feed, water and soil.

What could happen in the absence of adequate and appropriate legislation?

Flooding the market with falsified and substandard VMPs;

Inadvertent use of medicated feed without realizing the antimicrobial contents;

Prolific overuse and misuse of antimicrobials for non-therapeutic purposes;

Waste contaminated with antimicrobials discharged close to water sources;

Food, feed, water and soil contamination with antimicrobials resulting in contaminated products entering into the food chain.
Nevetherless, regulators should be aware that not all issues should be addressed through legislation; some challenges may be better addressed through non-legislative means, such as codes of practice or awareness-raising campaigns.
Finally, legislation should not be considered just as prohibitions and requirements. Legislation can also serve to create an enabling environment to define policy priorities, to involve all stakeholders in policy making and implementation, and to foster implementation of good production and management practices. The legislation in this area should ultimately aim to mitigate the risks of AMR without creating unnecessary burdens.
What is FAO doing on legislation and AMR?
FAO Methodology to Analyse AMR-relevant Legislation in the Food and Agriculture Sectors
FAO has developed the Methodology to analyse AMR-relevant legislation in the food and agriculture sector ("Methodology") with inputs from WOAH (World Organisation for Animal Health) and the financial support of the UK Fleming Fund. The Methodology is a guidance document initially created to guide national legal experts in undertaking legal reviews. This helps to identify the provisions relevant for AMR in their national legislation across the different key regulatory areas of the food and agriculture sector. Since its inception, the Methodology has been applied in over 27 countries and for four sub-regional organizations.

Direct support to country

Regional support

Project in the pipeline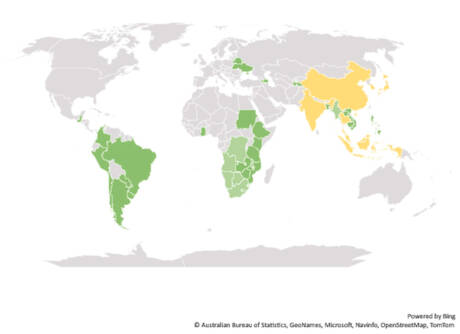 One Health Legislative Assessment Tool for AMR
Answering the need for a concerted One Health approach to analyse legislation, FAO, WHO (World Health Organization) and WOAH are collaborating to develop a One Health Legislative Assessment Tool for AMR, with inputs from UNEP and under the support of the Antimicrobial Resistance Multi-Partner Trust Fund (MPTF). This tool is under development and to be piloted in Morocco, Cambodia and Zimbabwe.
Monitoring the implementation of the Codex Alimentarius Code of Practice to Minimize and Contain Foodborne Antimicrobial Resistance
Initially adopted in 2005, the Codex Alimentarius Code of Practice to Minimize and Contain Foodborne Antimicrobial Resistance (CXC 61-2005) has been updated in 2021. Following the amendment, a tool has been developed to analyse for alignment of national practices and legislation with the Code of Practice. In the tool, there is a component specifically addressing legislation, aimed to identify the relevant legislative provisions that would meet the Code of Practice requirements.
AMR-LEX
With the financial support of the UK Fleming Fund and NORAD, FAO Development Law Service (LEGN) has developed AMR-LEX, a subset of FAOLEX, the world's largest database of food and agricultural policy and legislation. AMR-LEX is publicly available since September 2022, is free of charge and constantly updated.
Developed with a One Health approach, AMR-LEX pays attention to all the legal areas relevant to AMR and AMU in the food and agriculture sectors. This includes AMR specific policies and legislation, but also sector specific policies and legislation across legal areas. AMR-LEX further incorporates national and regional profiles that include AMR-relevant policies and legislation. Through its national profiles, AMR-LEX provides an opportunity to go through different regulatory options and design new regulatory solutions to tackle AMR. By disseminating these laws, regulations, and policies, AMR-LEX contributes to the global efforts to address AMR, and to highlight the important contribution that legislation has to this purpose.
The subset can be accessed by clicking here: https://amr-lex.fao.org/
For more information, please contact: [email protected]
What we have learnt
AMR management and regulation requires a One Health approach
As defined by OHHLEPi, One Health is an integrated approach that pays attention to the intersection between human, animal and environmental health. One of the complexities of AMR is that it is connected to different sectors and needs multiple competent authorities to address its common challenges, demanding One Health approach. FAO and its Quadripartite partners advocate for a One Health approach to AMR that brings together the main sectors that may have an impact on AMR, including the human health, animal health, agriculture, food safety and environmental sectors. A One Health approach to AMR management might be reflected in at least two ways: through a multisectoral coordination mechanism that facilitates coordinated and multistakeholder AMR management, and by the appropriate connections and cross-cutting considerations to be included in sector-specific legislation.
Most international recommendations related to AMR can be incorporated in sector specific legislation
Sometimes, there is the idea that there must be a standalone AMR-specific piece of legislation to be able to address AMR comprehensively. However, with the exception of multisectoral governance and collaboration mechanisms, most of the legal underpinnings required to address AMR can be addressed in sector-specific legislation that follows international guidance. Further, existing legislation might not mention the term "AMR", which does not prevent them from addressing some AMR needs.
It must also be recognized that there is a place for multisectoral legal instruments to clarify the division of roles and responsibilities and ensure sustainable participation of different institutions. This could take the form of establishment of an AMR governance structure or the establishment of integrated surveillance mechanisms. This type of legislation that has an integrated approach could also create obligations for information sharing, to declare AMR as an area of general national interest, and to ensure that there is an appropriate and specific allocation of funds across Ministries and other state institutions.
Along with these multisectoral legal instruments, most of the specific regulatory reforms relevant for AMR should be incorporated into sector-specific legislation. Introducing these into general AMR legislation may result in legal fragmentation across sectors, creating duplications and hindering appropriate law implementation and enforcement.
Key regulatory areas for addressing AMR in the food and agriculture sectors
To provide a comprehensive response to this cross-sectoral issue, sector-specific regulatory instruments across the different areas relevant for AMR should contain AMU and AMR-related responses.
These include frameworks that regulate antimicrobial substances, those that control the contamination of food and the environment with antimicrobial residues and resistant microorganisms, as well as those that improve and maintain the health status of plants and animals to reduce the risks of AMR (see above). One of the most important instruments for addressing AMU is the regulatory framework for veterinary medicinal products (VMPs). Every stage in the lifecycle of the VMP, from cradle to grave, contain regulatory mechanisms to prevent the inappropriate distribution or use of antimicrobials, as well as the sale of falsified and substandard VMPs. Medicated feed which contain antimicrobials should also be subject to the same requirements as VMPs that contain antimicrobials. The wider legal framework on feed and feed additives could also have a potential impact on AMR, especially in supporting alternatives to antimicrobials.
Similar concerns may arise regarding the approval of antimicrobials for plant production. In fact, there is extensive data on the use of antimicrobials as pesticides, including antibiotics and fungicides that can be of importance for human medicine. The regulatory frameworks for pesticides should address the possibility that the release of antimicrobials through pesticides into soil and water could be passed to the animals, the human food chain, or have an impact on the environment.
Food safety legislation may also have a role in addressing AMR, by including provisions for the government to set up, monitor and control the maximum residue limits (MRL) of VMPs and pesticides in food.
The regulatory frameworks for waste, water, soil and the environment should also contain elements relevant for AMU and AMR, particularly to tackle release of waste and wastewater that contain antimicrobial residues as well as resistant microorganisms from key sources, such as hospitals, feed mills, pharmaceutical plants, municipal waters, and farms. The regulatory framework in these areas regulate the activities carried out that may have an impact on AMR, and take into account the need to monitor and control contamination in soil and water. Water legislation should further deal with the aspects of water access and permissible use of potentially contaminated water.
Finally, the areas of plant health and animal production and welfare, legislation contain provisions for improving and maintaining plant and animal health status. Building the resilient systems in these areas could reduce the need to use antimicrobials and thus the risks presented by AMR.