FAO Digital services portfolio
FAO has developed applications, databases and platforms to support the work being carried out in countries around the world. These digital services increase access to useful data, information, maps and statistics. The featured digital services represent a fraction of a broader FAO Digital Services Portfolio.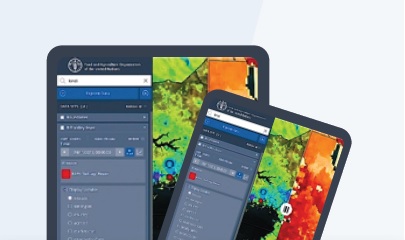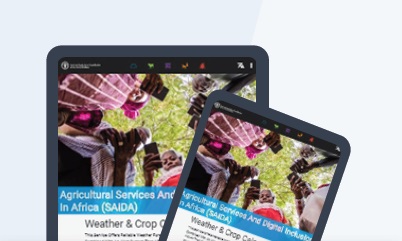 Integrates Local Price data from FPMA, Geospatial indicators from WAPOR (using GPS), Weather forecast from WMO and Crop Calendars from AGP post-harvest operations best practice from the Information Network on Post-harvest Operations (INPhO) from ESN.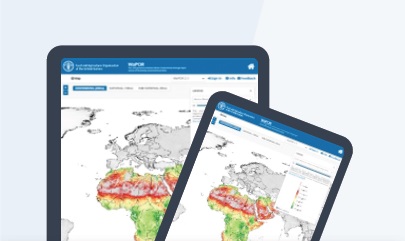 The FAO portal to monitor Water Productivity through open access of remotely sensed derived data.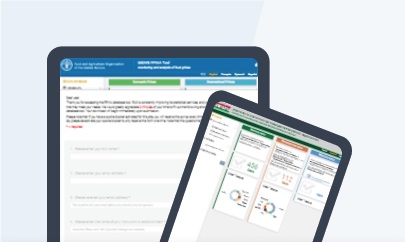 This web site contains latest information and analysis on domestic prices of basic foods mainly in developing countries, complementing FAO analysis on international markets. It provides early warning on high food prices at country level that may negatively affect food security. All data used in the analysis can be found in the FPMA Tool.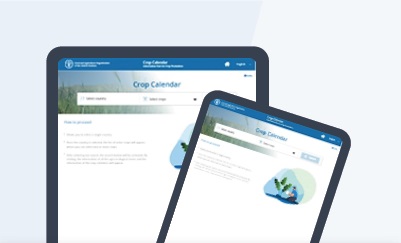 The Crop Calendar is a tool that provides timely information about seeds to promote local crop production. It contains information on planting, sowing and harvesting periods of locally adapted crops in specific agro-ecological zones. It also provides information on the sowing rates of seed and planting material and the main agricultural practices.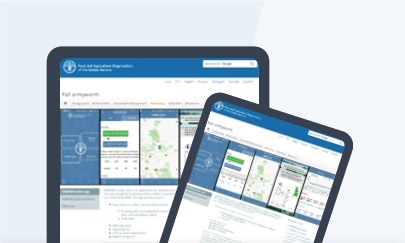 Through the FAMEWS app and its platform, data on Fall Armyworm can be collected at the farm level and collated for sharing at local, national and global levels to manage the pest, identify priority areas, and foster early warning mechanisms for all stakeholders. The FAMEWS mobile app can be directly downloaded to Android v5 or higher.
ASIS monitors agricultural areas with a high likelihood of water stress/drought at global, regional and country level, using satellite-based remote sensing data at 1 km resolution. It simulates the analysis that remote sensing experts and agronomists would undertake and simplifies the usage and interpretation of the data for a broader audience. The system is updated every 10 days, with historical data stretching back to 1984.