Equitable Social and Gender Environment for Multiple Retailing
Understanding the behaviour of different types of consumers will help target strategies for food loss and waste (FLW) reduction. An EU study found a variety of results, expressed in terms of odds ratios, and regarding the individual characteristics, perception and attitudes that influence food waste:
Older people, aged 65 and over, are less likely to waste food than younger people
Females are less likely to waste food than males
Unemployed people and job-seekers waste less food on average than employed people
The perception of living in an area with little or no litter in the streets is positively related with the production of small percentages of food waste
Rural inhabitants are less likely to produce food waste than town or city dwellers
In Germany, for example, food redistribution is a common practice among German retailers. However, costs for donations resulting from logistical challenges and labour for sorting food by best-before-date may discourage retailers from collaborating with food banks. Increased frequency of food collection by food banks would contribute to reducing the strain on retailer's storage capacity. Since the frequency of collection depends on food banks infrastructure, e.g., transportation and storage facilities, investments in the infrastructure of food banks are recommended. Financial resources for these investments could come from payments for redistributed food items by food recipients, even if the food items are only sold for a symbolic price. Considering the motivation of German retailers for participating in food redistribution, psychological and social motivations appeared more prevalent than economic motivation.
To unburden retailers from uncertainties regarding the legal liability, policy makers could establish a framework encouraging retailers to donate unmarketable food. Policy makers might consider a law similar to the "Good Samaritan Act" in the USA to limit donors' liability.
More Resources
More Resources

One of the major issues prevailing in the fisheries and aquaculture industry in Sri Lanka is the high loss and waste of fish, and it has become necessary to introduce strategies aimed at preventing and...
This study aims to improve understanding of how green and digital technologies could be used to reduce consumer food waste and what could be done to further unlock this potential.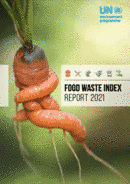 In complement to the Food Loss Index, developed by FAO, the Food Waste Index covers the later stages of food's journey – food waste – occurring at household, food service and retail level.