Thematic studies
As part of the preparation of the State of the World's Forest Genetic Resources, a series of thematic studies were prepared under the overall coordination of FAO. The objectives of these thematic studies were to review available knowledge and experience in addressing the key issues and trends identified, and to identify actions required, including research needs and priorities. The thematic studies were prepared in close collaboration with Bioversity International, the World Agroforestry Centre and a large group of scientists and experts around the world. The key findings of seven thematic studies were also published in a special issue of Forest Ecology and Management (open access).
Genetic considerations in ecosystem restoration using native tree species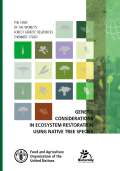 This study reviews the role of genetic considerations in a wide range of ecosystem restoration activities involving trees. It evaluates how different approaches take, or could take, genetic aspects into account, thereby leading to the identification and selection of the most appropriate methods. The study includes a review and syntheses of experience and results, an analysis of successes and failures in various systems, and definitions of best practices including genetic aspects. It also identifies knowledge gaps and needs for further research and development efforts.

PDF
Global Forest Genetic Resources: Taking Stock
This Special Issue of Forest Ecology and Management presents an editorial and the key findings of seven thematic studies prepared for the first-ever State of the World's Forest Genetic Resources. The content of the Special Issue is freely available from the publisher's website.