GIAHS site representatives from China, Japan, Peru, Morocco, Spain and Tanzania shared their experiences and challenges on the sustainable use of natural resources as well as the types and functions of their ecosystem services. They explored how GIAHS can contribute to the objectives of the UN Decade on Ecosystem Restoration.
Aware of the importance of keeping our planet's ecosystems alive and healthy, the Food and Agriculture Organization through the Secretariat of the Globally Important Agricultural Heritage Systems (GIAHS) organized the virtual seminar Globally Important Agricultural Heritage Systems and Ecosystem Restoration.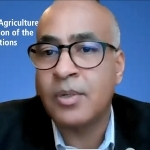 The opening remarks from the Deputy Director of the FAO´s Office of Climate Change, Biodiversity and Environment, Zitouni Ould Dada, kick-started the meeting. He stated that the attainment of the 17 Sustainable Development Goals (SDGs) hinges on our capacity to tackle ecosystem degradation at a global scale.
In particular, he highlighted that the FAO Globally Important Agricultural Heritage Systems Program (GIAHS) has an invaluable role to play within this scenario. GIAHS sites provide extraordinary examples of how ecosystems have been sustainably developed, managed, and preserved through the harmonious interaction between man and nature over time. Zitouni concluded by claiming that it is through ecosystem conservation and restoration experiences in GIAHS sites that we can learn more about effective and evidence-based approaches and practices.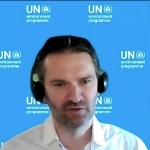 On behalf of the United Nations Environment Programme, Tim Christophersen, head of the Nature for Climate branch, highlighted the need to build on existing efforts and experiences, upscaling and replicating existing ecosystem restoration projects. He also explained the importance of the UN Decade of Ecosystem Restoration to bring together all efforts to support and scale-up actions and political will to prevent, halt and reverse the degradation of ecosystems. "Shifting to regenerative agriculture is key" and the role of agriculture and food systems is crucial. In this context, the Decade aims to build on processes to make productive ecosystems more ecologically, socially and economically viable.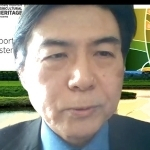 The Coordinator of the FAO´s Globally Important Agricultural Heritage Systems Programme, Yoshihide Endo, stressed that agriculture in many GIAHS sites relies on various types of ecosystem services which have been developed by farmers for many generations to perform specific functions for their food security and livelihoods. He also proposed that GIAHS sites can be identified as showcases of human made ecosystems.
Endo also recognized the importance of good agricultural practices carried out by farmers in GIAHS sites to avoid degradation of soils and water, to maintain agrobiodiversity in harmony with the environment. He pointed out the importance of such factors as economic sustainability, cultural identity, roles of local organizations and traditional knowledge of farmers for effective conservation and restoration of ecosystems in GIAHS sites, given that farmers are custodians of ecosystems. The dynamic conservation of the GIAHS sites could also offer good opportunities for well-coordinated ecosystem restoration.
Japan
Explaining the vitality of the agri-food systems in Japan, Naoki Naito, Associated Professor of the Tokushima University, illustrated how the use of grass harvested from the semi-natural grassland (second nature, formed in the human–nature hybrid environment), being spread in the crop fields, plays an important role for improvement of soil physical conditions, weed control and prevention of soil erosion in Traditional Tea-grass Integrated System in Shizuoka and Nishi-Awa Steep Slope Land Agriculture System in Japan. In Shizuoka site, farmers know this method enhances the taste of tea. He also demonstrated that the semi-natural grassland in both sites (called Chagusaba and Kayaba respectively) harnesses richer biodiversity than natural grassland. Naito explained GIAHS site promotion activities in Shizuoka, in particular, authentication of the tea products through certification system, gives incentives farmers to continue this farming method. In Nishi-Awa site, local volunteer association support the maintenance and use of semi-natural grassland.
China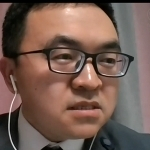 From China, the Associate Professor at the Chinese Academy of Sciences (CAS), Liu Moucheng, after a brief evaluation of the current states of the GIAHS and NIAHS sites in China, he analyzed a few case studies in order to point out the outstanding ecosystem services that GIAHS sites can supply. In particular, Qingtian Rice Fish Culture, Dong's Rice Fish Duck System, Hani rice terraces and Jiaxian Traditional Chinese Date Gardens.
Liu highlighted the positive and synergies effects brought about by the ingenious agricultural techniques adopted by farmers in the Dong's Rice-Fish-Duck System. The coexistence of fish, rice, and ducks has allowed farmers to improve soil fertility by fine-tuning the cycle of nutrient materials, to mitigate against the risks of hazardous rice pests, and to control weeds. Liu also described skillful ways of farmers to use the water retained in the forest at the top of mountains in Hani Rice Terrace and the ecosystem services of jujube forest in Jiaxian County such as biodiversity protection, soil and water conservation, windbreak and sand fixation.
Tanzania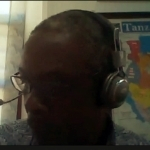 Firmat Banzi, former officer of the Ministry of Agriculture in Tanzania, spoke about the Shimbwe Juu Kihamba Agro-forestry Heritage Site located at the foot slopes of Mount Kilimanjaro, standing out as the most intact example of upland agro-forestry system in the country, and supported by cultural identity of the local community. He described how trees, crops and livestock live together in harmony within a multi-layered vegetation structure of coffee, bananas and vegetables, which provides mutually beneficial conditions. He also mentioned the contribution of this system to carbon sequestration and the ingenious irrigation system, consisting of canals that draw water from the upland forest. The indigenous Chagga people, who live on the site, continue to pass down from generation to generation a set of cultural norms, values and traditional ceremonies strongly linked to the Chagga home gardens and their management.
Morocco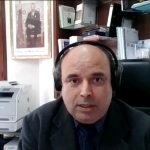 Mohammed Bachri, Director of strategy and partnerships of the national Agency for the Development of Oasis Zones and Argan in Morocco (ANDZOA), presented the Moroccan GIAHS sites. He explained how the Oases System in the Atlas Mountains and the Argan-based agro-sylvo-pastoral system within the area of Ait Souab - Ait Mansour apply ancient techniques in water management and irrigation. Culturally embedded, both the knowledge and the social management of natural resources have allowed farmers not only to succeed in developing adapted systems to grow food production in arid areas but they have also ensured the conservation of unique agroecosystems. Lastly, he insisted on the central role that GIAHS has played in Morocco to support and translate public policies in concrete and local actions.
Spain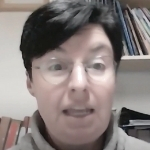 Teresa Adell Pons, Head of Taula del Sénia and responsible for the Agricultural System of Ancient Olive Trees Territorio Sénia in Spain, explained how local communities can keep thousands of ancient olive trees alive and productive through sustainable management. Current olive grove cultivation techniques and oil production practices date back to ancient times as described in Roman and Arabic agriculture treatises. Teresa stressed out how the sustainable use of natural resources, as well as the maintenance of local varieties of olive trees, supported the conservation of the entire agro-ecosystem. In addition, local farmers apply efficient management techniques to avoid soil erosion and evapotranspiration, as well as pest management and conservation of local biodiversity.
Amador Peset, farmer of the Agricultural System of Ancient Olive Trees Territorio Sénia, described how he became a farmer to recover 165 ancient olive trees. Now he has been actively promoting recovery of the lives and production capacity of abandoned ancient olive trees and making the area productive again.
Peru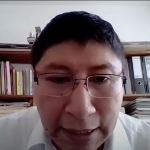 From Perú Javier Llacsa, member of the National coordination committee of the of the on-going Global Environment Facility (GEF) project "Sustainable Management of Agro-Biodiversity and Vulnerable Ecosystems Recuperation in Peruvian Andean Regions through Globally Important Agricultural Heritage System", explained the project's aims and approach. He highlighted how this project in the Andean Agriculture aims to preserve traditional agricultural systems through an intercultural approach, including the integrated management of forests, water and land resources, and the maintenance of the ecosystem services in specific Andean Regions. Llacsa finally emphasized the fundamental role of local communities and ancestral knowledge in restoring ecosystems in a strict relationship with nature.
Closing remarks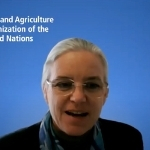 Mette Wilkie, Director of FAO's Forestry Division, closed the webinar and invited to keep the conversation going and made a call to all agricultural heritage sites to continue contributing to both the UN Decade on Ecosystem Restoration and also to the UN Decade on Family Farming. According to Wilkie, the restoration of ecosystems represents the "recipe" to build back better after the on-going pandemic.