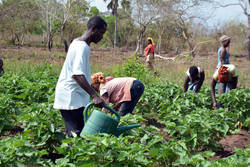 Côte d'Ivoire is one of the poorest countries in the world. In 2013, it ranked 171 among 187 countries in the Human Development Index of the United Nations. It also has a low Gross Domestic Product (GDP) per capita, which was about US$1 546 in 2014.
Agriculture is the main driver for economic growth and poverty reduction of the country. The sector accounts for about 22 percent of the country's GDP and employs around 34 percent of the work force of the country.
Côte d'Ivoire has considerable agriculture potential. Arable land is estimated at 17 million ha, while irrigable land is about 430 685 ha, of which 56 560 (13%) are already equipped and 32 484 ha actually irrigated.
The growth model followed by the country has been based on the promotion of industrial export crops such as coffee, cocoa, rubber, palm oil and cotton. The extensive nature of production has had negative consequences for forests in the country, since increased production has been achieved at the expense of forest cover.
The productivity of the agricultural sector is constrained by the lack of water control, the low levels of mechanization and management technologies, the lack of access to inputs and the low levels of public investments.
The low agricultural productivity is one of the causes behind rural poverty. The overall incidence of poverty in the country is around 46 percent, but it is overwhelmingly concentrated in rural areas.