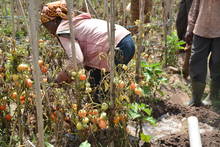 Côte d'Ivoire has a great irrigation potential distributed in inland valley bottom, the great plains and coastal marshlands.
About 20 percent of this potential uses the following irrigation technologies:
Full control irrigation: Sprinkler schemes are found in sugar producing areas. In addition to this, surface irrigation is practiced in alluvial plains for the production of fruits (pineapple, bananas), vegetables and rice. The main surface irrigation techniques are pump irrigation and river diversion.
Equipped inland valley bottoms and swamps: The system used is direct river diversion where water is taken from small rivers to side canals in farming plots. Interventions in swamps are usually geared towards controlling the levels of the groundwater table through a drainage system.
Traditional irrigation: Inland valley bottoms and swamps. In these systems there is no particular infrastructure developed but some water management interventions.
The main irrigation technologies implemented in the country are the equipment of inland valley bottoms and drip irrigation for vegetable production. Drip irrigation for gardens is promoted in the country as a means to increase food security, diversify diets, generate incomes and increase resilience to climate change.
The government of Côte d'Ivoire considers the development of irrigation as one of the priorities for the agricultural sector. It also acknowledges the importance of climate change impacts on water resources and the agriculture sector. In particular, in coffee and cocoa producing areas the impacts could be even more devastating due to the importance of such crops for the country's economy.