Water tenure: Building equity and resilience to leave no one behind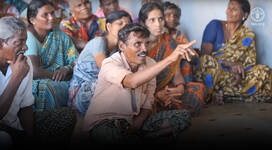 Providing access to land and water resources is fundamental to ensure local and national food security, especially in conditions of water scarcity, climate change and increased competition. Water is a vital resource for people's livelihoods. It is important to manage it efficiently and equitably. Water accounting and water tenure assessment provide a comprehensive understanding of the availability and access to water resources needed to manage water sustainably.
This video explains the concept of water tenure and why this concept is important to sustain smallholders' livelihoods and ensure that no one is left behind.