SALSA Project Final Conference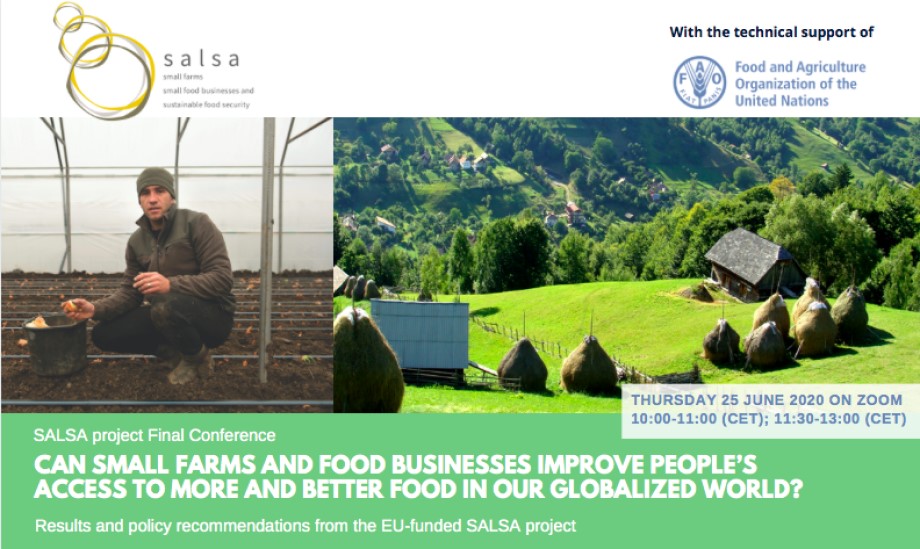 The Research and Extension Unit (AGDR) of FAO participates in SALSA – Small Farms, Small Food Businesses and Sustainable Food Security, an EU-funded research project of the Horizon2020 program which run from April 2016 to July 2020 with the aim to provide a better understanding of the role of small farms and small food businesses in meeting the sustainable food and nutrition security (FNS) challenge
SALSA pioneered a novel integrated multimethod approach in 30 regions across 19 countries in Europe and Africa using the most recent satellite technologies, transdisciplinary approaches, food systems mapping and participatory foresight analysis.
The Final Conference will take place on 25 June 2020 and will be divided into two main parts:
Part A – 10:00 – 11:00 (CET)
Overview and highlights of main results from the SALSA project
The first part of the Conference aims to summarise and illustrate SALSA's main results including:
new concepts and theory developed by the project with respect to small farms and food businesses;
the validated SALSA methodology, used for identification of small farms crop types, crop area and production estimates, as well as regular monitoring of small farms' production;
the novel typology of small farms identified and their importance within food systems;
Food systems' maps which unveil the role of small farms and their market linkages within the food systems.
Part B – 11:30 – 13:00 (CET)
Enabling governance and policy recommendations for small farms and small food business
SALSA has aimed to contribute to strengthen the role of small farms and small food business in regional food systems.
This second part of the Conference highlights two of the main SALSA's contributions in this regard:
the identification and characterisation of enabling governance frameworks for small farms and small food business;
tailored and fit-for-purpose multilevel policy recommendations.
These are particularly crucial in the midst of relevant processes of policy reform in the European Union (CAP and its National Strategic Plans, 'Farm to Fork' and 'Biodiversity' new strategies, EU-Africa Strategy), as well as in the frame of the current COVID-19 crisis and its impacts on the food system.
The two sessions will welcome the active participation and questions from the audience.