WHAT THE PROJECT DOES
This project is part of the FAO Multipartner Programme Support Mechanism (FMM) and provides technical assistance and policy support to improve rural women's access to local, national and global markets.
The project provides technical assistance and policy support in selected value chains:
Strengthening the capacities and involvement of women in agrifood value chains
The Project directly supports female actors in rural small-scale value chains, mainly through women's associations, cooperatives, unions and farmers groups. The project strengthens the capacities and skills of women groups in selected food value chains through capacity development activities, including trainings, knowledge-sharing study tours and specific support aimed at improving market-oriented production and value addition, enterprise development, business-to-business linkages and access to finance.
Supporting institutions and promoting gender-sensitive value chains
Activities are carried out in close collaboration with ministries and national institutions at national and local levels, in order to reinforce their capacities in addressing gender inequalities and providing efficient services for women in agrifood value chains. Advocacy workshops and presentations are organized for policy and decision-makers in Ministries of Agriculture, while Trainings of Trainers are organized for national extension services to ensure the sustainability of capacity development efforts.
Producing knowledge products and advocacy tools
The experience and lessons learned from the project feed into the development of tools and knowledge products – such as the guiding framework Developing gender-sensitive value chains and training materials – that enable policy and decision makers to formulate and implement gender-sensitive agrifood systems. Advocacy tools, such as brochures and presentations featured at regional and international fora, are also developed for the advocacy and sensitization of policy and decision-makers.
A SUCCESSFUL EXPERIENCE THAT CAN BE SCALED UP
How can women fully benefit from cross-border trade in the Great Lakes Region?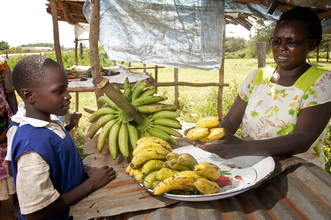 Small-scale cross border trade plays an essential role in the Great Lakes countries. In Rwanda, for instance, neighbouring countries are important trading partners accounting for 20 percent of the total trade. Official data indicates that informal cross-border exports with the Democratic Republic of Congo, Burundi, Tanzania and Uganda are much higher than formal exports. The 74 percent of informal small traders is represented by women and the revenue generated mostly spent on households to cover basic needs, such as food and schooling.
These data show women's contribution to poverty reduction, food and nutrition security, and economic growth. They also represent further evidence of the importance of mainstreaming small-scale trade into value chain development strategies and implementing gender-sensitive value chain interventions. The vulnerability of women and their specific difficulties - such as limited access to capital, lowest levels of profit and harassment at the borders - need to be addressed systematically.
FAO has identified five main areas for which public institutions should take action to reduce women small traders' vulnerability, address their challenges and unfold their potential. There were proposed concrete measures related to Policy framework, Trade-policy mechanisms, Trade regulations, Infrastructures and services, and Legal framework for trader associations.
Support to informal women traders associations to become cooperatives; facilitate access to information on simplified trade regimes, export requirements, procedures and documentation; access to finance; training on business management and constitute concrete interventions for women to benefit more sustainably from small-scale trade.