WaPOR - FAO portal to monitor Water Productivity through Open access of remotely sensed derived data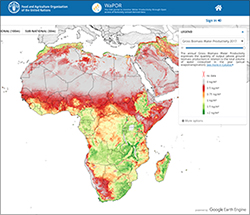 Achieving Food Security in the future while using water resources in a sustainable manner will be a major challenge for us and the next generations. Agriculture is a key water user and a careful monitoring of water productivity in agriculture and exploring opportunities to increase it will be required. But how can we monitor the performance of water use in agriculture? FAO has developed WaPOR, a publicly accessible near real time database using satellite data that will allow monitoring of agricultural water productivity.
A participatory methodology review process including validation assessments carried out by different research institutions (IHE-DELFT, University of Twente) and feedback received from users, has provided the opportunity to collectively define priorities for improvement of the various WaPOR versions.
WaPOR 2.0 was launched on 17 June 2019 during the celebration of the World Day to combat Desertification and Drought. The findings of validation studies and quality assessments allowed the team to implement a number of improvements on version 2.0 of the database. For more information on WaPOR 2.0 and on the previous WaPOR versions, visit the WaPOR website.