FFSs help Mozambican communities progress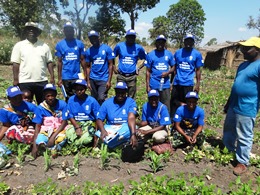 In Mozambique, the Food and Agriculture Organization of the United Nations (FAO) first introduced the Farmer Field School (FFS) methodology in 2002 in Zambézia Province. Approximately 120 schools were established in a first phase, benefitting over 3.000 producers. Now, there are more than a thousand FFSs which benefit around 27.500 producers all over the country.

The aim of the FFSs is to support producers in increasing production and productivity and enhancing nutrition and food security among their families. These schools are an opportunity to test common agricultural practices and have allowed the approach of many subjects such as water and sanitation, post-harvest practices and storage of seeds and food as well as nutrition, gender issues, HIV and AIDS, marketing, savings and credit.

One of the beneficiary farmers of this methodology in Mozambique is Rosário Alferes, from Tete Province.

Rosário Alferes is a farmer in Macanga District, Tete Province, and also the facilitator of FFS "Tiessa Njala" (which in Portuguese means "challenge hunger") recently registered as a producers association with 27 members.

Besides acting as a facilitator, Alferes is involved in the FAO Millennium Development Goal 1c (MDG1c) sub-programme component of vaccination against Newcastle disease and post- harvest.

After learning new practices and technologies within the FFS, Alferes now produces irrigated vegetables, corn and beans apart from being a multiplier of orange pulp sweet potatoes. "The combination of good production techniques, the use of conservation agriculture and improved storage capacity (through Gorongosa silos) increased my production," says Rosário Alferes. "I could improve the food nutrition security of my family and now I even sell the surplus at the local market".

FFSs were initiated in Tete in 2014. To date, there are, in total, over 90 schools throughout the province with approximately 2.500 beneficiaries, mostly women. According to FAO MDG1c coordinator in Tete, Tendai Gonesso, "the main activities the participants develop in FFSs are related to specific studies: plant density per hole, testing of different levels of fertilizing, conservation agriculture observing the three principles (minimum soil perturbation, permanent soil cover and crop rotation) as well as application of mulching (dead vegetation on the ground) without observing the three principles".

These farmers´ groups meet at least once a week to carry out learning activities and it is expected that the group completes a practical study to solve a problem identified by the members during production.

Farmer Alferes is happy to work with an FFS, saying that "the neighbours who do not participate in the FFS are increasingly interested in knowing how we produce 1.5 tons of corn per hectare, while they only produce 0.5 tons".

Before participating in the FFS, Alferes used to practice traditional seeding which was not productive, he recalls. "We are already in the second season and I see a major benefit of using the new technique of seeding we learnt at the FFS. We used to plant three to four grains and now we only need one to two grains."

The producer says "the work at the FFS has been well assisted by FAO, but rain came a little late, delaying sowing."

As a facilitator, Alferes sees the FFS work as joint learning. "Working with FFS members is good because there is coordination. The FFS colleagues actively participate and share ideas. We are moving to new production techniques, we study the crop cycles and are able to carry out our work."

Alferes has a family of seven, his son Chadreque Rosário, is also a member of the FFS in Macanga. "I wish to continue at the FFS and improve production techniques. The FAO team came here and told us how to plant seeds. We are changing in Macanga. When the community comes to visit us they like our work".

The Farmer Field Schools (FFSs) first emerged in Asia, in the late 1980s, with FAO´s technical support. Later, this approach spread to other regions and started being used in other crops and farming domains.