Data requirements and testing guidelines

The data requirements tool provides the registrar with guidance on the data that may be required to evaluate whether a specific type of pesticide is appropriate for a specific use situation. It further provides advice on widely accepted testing guidelines which can be used to generate these data.
A registrar may use this tool to check whether all necessary data have been obtained from the applicant, or if well known testing methods have been used. The tool can also be used to help define national data requirements for registration of pesticides, if these do not exist or need to be updated.
Data requirements are not the same for every type of pesticide, but will depend on the pesticide group (e.g. a chemical or microbial product), the pesticide type (e.g. an insecticide, herbicide or rodenticide), the intended use (e.g. on field crops intended for human consumption, for public health, or in forestry), and the type of registration (e.g. a new product with a new active ingredient for the country, or an extension of an existing registration).
Obviously, different data are needed to evaluate different topics. In the Toolkit, data requirements can be generated for the following topics:
Identity & composition
Physical & chemical properties
Further information on the formulated pesticide
Application
Analytical methods
Toxicology and metabolism
Residues
Exposure
Fate and behaviour in the environment
Ecotoxicology
Efficacy
Classification, labelling and packaging
The data requirements listed in the tool are based on the FAO/WHO Guidelines on data requirements for the registration of pesticides (2013).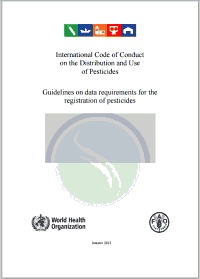 To select data requirements for the specific pesticide and use situation that you are reviewing, click on Data Requirement Selection in the Toolkit menu