Community of Practice on food loss reduction Forum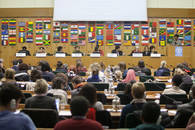 Welcome!
You can access the online Forum discussions if you are a registered member of the CoP.
Click to Register as a CoP member and then Login.
A New discussion is ongoing on "Opportunities for FLW reduction in 2021: International Year of Fruits and Vegetables", have your say!
Looking forward to get your insights and reading from you in the Forum.
In the Forum Archive section you will be able to access as a Report file the previous CoP online discussions that are now closed.