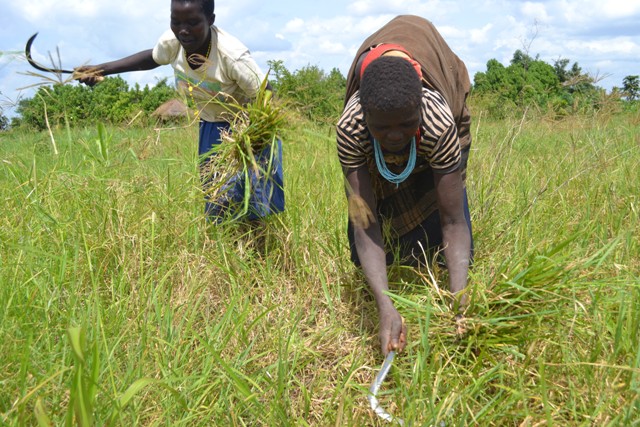 Uganda pastoralists make hay to beat feed shortages during drought
20/08/2013
To cope with recurrent drought and climate variability, pastoralists in Karamoja – a semi-arid region of Uganda – harvest grass to make hay, which they store and feed to their animals in the dry season.
Margaret Nakiru, a single mother, is no longer worried about finding pasture for her goats and sheep during the dry season.
"I have stocked enough hay to last the difficult time", she says.
Traditionally, livestock keepers in Karamoja migrate during the dry season, travelling with their animals in search of grazing areas.
But in Kaabong district, Margaret and other members of Atokenyutu Agropastoral Field School (APFS) in Kapedo Sub County have adopted a different approach. They feed their animals on hay from home.
Feeding livestock from home also eliminates the risks associated with migration, such as raids, diseases and separation from family members.
"During the dry season, it is difficult to divide time between looking for food for the family and pasture for animals", says Margaret.
Members of Atokenyutu APFS have been trained to identify palatable grass and legumes, to make and store hay and how to feed it to the animals.
With funding from European Commission Directorate-General for Humanitarian Aid and Civil Protection (ECHO), community-managed disaster risk reduction has been mainstreamed into the APFS as a planning tool. The group members had earlier been trained in simple ways to assess potential hazards and risks, and prepare for disaster response. They identified the depletion of fodder and livestock diseases as the main underlying risks to their livelihood and the preservation of fodder as one solution.
This initiative helps communities to both reduce disaster risk and absorb the impacts of shocks without suffering permanent, negative impacts on their longer-term livelihood security. Every morning, the pastoralists go out in search of grass, bearing in mind the recommended practices that they have been taught.
The green forage must be cut and dried to stop all life processes as quickly as possible. Drying is done naturally under a shade for two to three days. It is aerated regularly by turning it over. While cutting the forage, they avoid grass that has matured already and the dried standing one.
The dried grass is baled and stored in a raised structure that has been fenced off to prevent rot and stray animals and rodents from destroying the hay.
Although there are many types of grass in Kapedo, members of Atokenyutu APFS only cut Cynodon spp, Glycine, Panicum, Chloris Gayana and Brachiaria species. They avoid poisonous pasture weeds such as Black jack and Solanum species, which all members can easily identify.
Besides feeding their livestock, they have enough hay to sell when the dry season sets in. In just two weeks, the group made over 100 bales of hay, each weighing an average of 25 kg. A local breed cow can feed on one bale for two to three days while goats can feed for five or more days.
To complement this initiative, the pastoralists have been trained in animal husbandry, focusing on disease prevention and control, and making nutritious mineral blocks in order to improve livestock health.
Ben Ogang, FAO's Programme Officer – Livestock Production says "these initiatives have built a strong foundation for resilience because the community has gained skills to prepare for future drought".