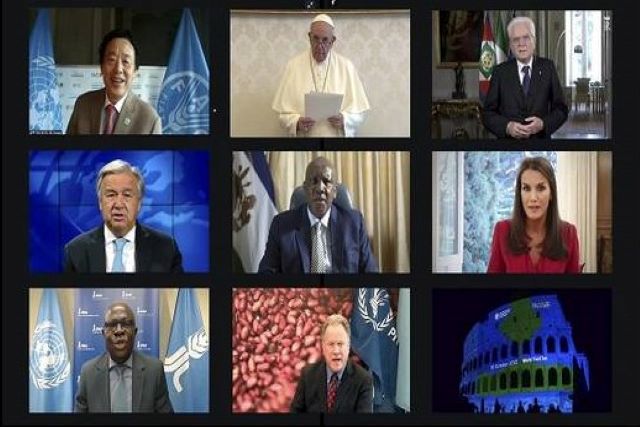 As FAO turns 75 its mission to end hunger and nourish the world is as relevant today as ever
Tags
:
WORLD FOOD DAY
,
FAO
,
FAO DIRECTOR-GENERAL
,
COVID-19
,
CONFLICT
,
CLIMATE CHANGE
,
FOOD SECURITY
,
LIVELIHOODS
,
RESILIENCE
,
VULNERABLE COMMUNITIES
,
16/10/2020
Today, World Food Day marks the 75th anniversary of the Food and Agriculture Organization (FAO) of the United Nations.
Born on the wake of catastrophe - World War II, three-quarters of a century later, FAO's mission to end hunger and nourish the world has been made more relevant because of another global scourge - the COVID-19 pandemic, said QU Dongyu, FAO Director-General.
Along the way, the world, and with it FAO, went from growing more food, to getting attuned to its environmental footprints, setting up regulatory frameworks in response, getting animal diseases under control, and, finally, seeing the fight against hunger as inseparable from other development goals.  
Hence, also, this year's World Food Day's theme: grow, nourish, and sustain. Together. 
"The present moment is again fraught with danger, complicated, and demands urgent action. As hunger grows once more, as the COVID-19 pandemic exposes the fragility of our food systems, history is calling upon us once more to rise to the challenge," urged Qu.
The Director-General spoke today at FAO's global 75th Anniversary/World Food Day virtual event in Rome, which brought together Pope Francis; Italy's President; Lesotho's King and Spain's Queen - FAO Special Goodwill Ambassadors for Nutrition; UN's Secretary General; and the heads of IFAD and WFP.
Saluting FAO's anniversary, Pope Francis described the organization's mission as "beautiful and important".
Time to build back better
World Food Day is marked this year as global hunger rises for the fifth consecutive year and a healthy diet is out of reach for 3 billion people. Nearly 700 million people still go hungry, and the pandemic could tip up to 132 million more into hunger by the end of 2020.
This year's World Food Day aims to galvanize and accelerate action towards ending hunger and malnutrition in all its forms, and to make food and agriculture an essential part of the COVID-19 response.
Chief amongst them, as speakers at today's event noted, are global solidarity and building more resilient, robust agri-food systems that can withstand shocks, deliver affordable and sustainable healthy diets for all, and decent livelihoods for all workers along the food supply chain.  
"Now is the time to rethink our approaches and redouble our efforts," said Qu.

[...read the full STORY]