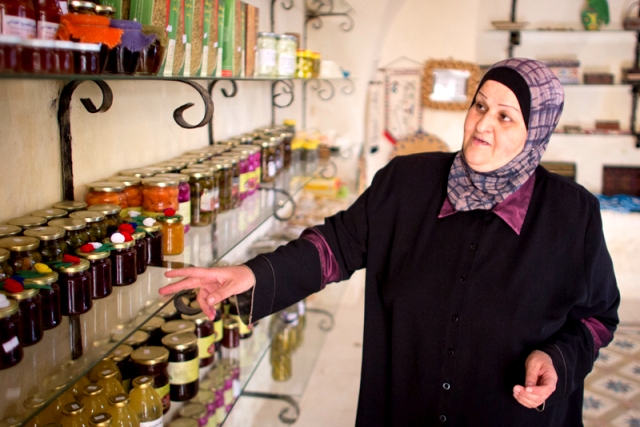 The "First initiative" women's association creates livelihood opportunities through cottage industry in the West Bank
Tags
:
WEST BANK & GAZA STRIP
,
NEAR EAST
,
CONFLICT
,
GENDER
,
URBAN AGRICULTURE
,
FOOD INSECURITY
,
FOOD PRODUCTION
,
INVESTMENT
,
INCOME GENERATION
,
FOOD CHAIN
,
JUNIOR FARMER FIELD AND LIFE SCHOOL
,
26/07/2013
To promote the equal rights, but different needs of women, FAO has been supporting women's cooperatives that manufacture cottage industry products across the West Bank and Gaza Strip. Under the Spanish-funded project "MDG-F Joint Programme for Culture and Development in the oPt", seven such cooperatives located in the northern West Bank have consolidated their efforts in order to maximize the profitability of their enterprise. Through this process, the women of these associations have built a sustainable means of generating supplementary income through their traditional livelihoods.
Sebastya is a Palestinian village of roughly 4 500 residents located in the northern West Bank, 12 km northwest of the city of Nablus. Sebastiya is renowned for its archaeological sites which host ruins dating to the Roman and Byzantine empires, drawing many tourists, thus giving the village a resource from which to capitalize upon.
The Sebastiya Women's Society has done just that. It is hosting a group of seven women's associations – many of which are composed of women from difficult economic circumstances – from neighbouring northern West Bank villages (Jenin, Arraba and Ya'bad), providing a centralized point of sale where they have access to a more predictable and constant marketplace to sell their wares.
In 2010, under the project, various trainings in food processing took place, with each of the seven associations contributing 20 members (140 in total) to be trained in quality and hygienic standards; product packaging and marketing; and accounting. After completing the trainings, each cooperative's kitchen was outfitted with food processing machinery, facilitating food preparation and distribution for sale in nearby communities – including Sebastiya, where the most well known restaurant in the village now sells their goods. Further, the women's cooperatives now also provide catering services to the Palestinian Authority's local governing offices, An Najah University in Nablus and other NGOs and private companies throughout northern West Bank.
In order to attain their goal of financial independence by 2015, the Sebastiya Women's Society is currently developing a vertically integrated business model to ensure their self-sufficiency and sustainability. Contributing to this model, agricultural products from FAO's Junior Farmer Field School (JFFS) in Sebastiya, and members' home gardens, are used by the women's associations in their food preparation and cooking. The seven women's associations also divide the specific labour tasks among themselves, so products are of a varied selection and produced efficiently.
A recent event where all of the women's associations sold their goods netted USD 5 000 for the groups, which in turn goes back to recoup the associations' running costs and directly to the individual members as profit.
The Sebastiya Women's Society is located in Qasr Al Kayed, a renovated Ottoman-era fortress which hosts the different women's associations, a computer lab and an adjoining guesthouse. Anaya Al Kayed runs the Sebastiya Women's Society and the building has been in her family for generations. "The organization got its start during the second Intifada, as the social and economic situation quickly deteriorated here", said Al Kayed, while sipping tea in the fortress's sunlit courtyard. "The idea for the women's group came from the community itself. We began working in 2002, but were formally registered with the local authorities in 2007 and started working with FAO in 2010."
Currently, the society boasts 150 members, with many men also volunteering and benefiting from the centre's activities and resources. It is known throughout the community as a safe place and enjoys a good reputation because of its long record of positive work and community involvement. According to Al Kayed, the Women's Society has also boosted the involvement of women in local civil affairs, with two of their members now holding seats on Sebastiya's municipal board.