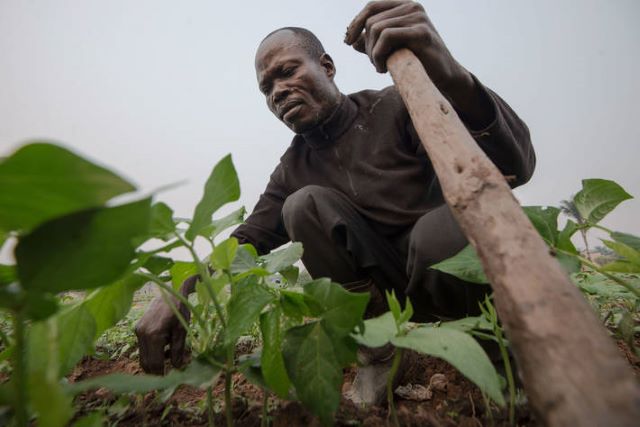 COVID-19 impacts driving up acute hunger in countries already in food crisis
Tags
:
COVID-19
,
VULNERABLE COMMUNITIES
,
FOOD CRISIS
,
FOOD INSECURITY
,
HUNGER
,
LIVELIHOODS
,
FARMERS
,
AGRICULTURE
,
LIVESTOCK
,
RESILIENCE
,
GLOBAL NETWORK AGAINST FOOD CRISES
,
15/09/2020
The Global Network Against Food Crises (GNAFC) today held a high-level event to present a review of the most recent global data available on how the knock-on effects of the COVID-19 pandemic are driving up acute hunger in vulnerable countries that were already wracked by food crises even before the novel coronavirus arrived on the scene. The meeting was also important for international resource partners and relevant actors to discuss emerging priorities, financing and programming implications in light of COVID-19.
New data related to the Democratic Republic of the Congo, for example, reveal that the central African nation has now become the world's largest food crisis in terms of absolute numbers of the acutely food-insecure - a staggering 21.8 million people. This, as the impacts of COVID-19 related control measures aggravated pre-existing hunger drivers in the country: insecurity and armed conflict, an extended economic slump, and heavy rains and flooding.
The Director-General of the Food and Agriculture Organization, QU Dongyu, told the event, convened on the sidelines of the UN General Assembly, that it was critical to work together before the situation deteriorates and, focusing on prevention and early warning systems and actions.
Qu also highlighted the importance of data collection and "global differentiation", which are the basis of FAO's Hand-in-Hand, an initiative aimed at partnering developed countries with those most in need to accelerate agri-food system transformation and sustainable rural development. He noted that the Hand-in-Hand Initiative includes the recently-launched Geospatial Platform for data collection.
To support countries and farmers to address persistent challenges related to food and agriculture and build back better from the pandemic, FAO has also launched the comprehensive FAO COVID-19 Response and Recovery Programme, which aims to mitigate the immediate impacts of the pandemic while strengthening the long-term resilience of food systems and livelihoods. Supporting the most vulnerable people, by promoting economic inclusion and social protection and boosting smallholder resilience, is among the top priorities.

[...read the full STORY]