Nuestros sistemas alimentarios actuales no pueden cumplir su propósito de proporcionar alimentos nutritivos y saludables para todos, y contribuir a mejorar las oportunidades de sustento de una manera ambientalmente sostenible. Estos están siendo desafiados por varios factores, entre los cuales están, los cambios en la dieta, la tecnología, la urbanización y el cambio climático.
En muchos casos, el problema radica en las limitaciones del sistema, mucho más allá de la producción agrícola. Puede haber suficientes alimentos para alimentar a todos, evitando la doble carga sanitaria de la malnutrición y la obesidad; sin embargo, los desequilibrios económicos y territoriales son tales que los sistemas alimentarios no generan beneficios económicos justos para todos los actores, en particular para los pequeños productores, desencadenando un ciclo interminable de precariedad y pobreza.
El proyecto comenzó con 8 países piloto (Bután, Burkina Faso, Colombia, República Dominicana, Madagascar, Malawi, Nepal y Senegal) y se está extendiendo a más de 50 países.
En el marco de una asociación entre la Unión Europea, la FAO y el Cirad, en cooperación con los gobiernos nacionales y las partes interesadas de los sistemas alimentarios, se inició una evaluación y consulta a gran escala sobre los sistemas alimentarios en más de 50 países, como un primer paso para transformarlos.
Las evaluaciones se basan en un enfoque sistémico que toma en consideración los sistemas alimentarios en su conjunto y examina las numerosas interacciones entre cuatro sectores clave: nutrición y seguridad alimentaria, bienestar económico, equidad territorial y protección ambiental. La evidencia y el conocimiento reunidos hasta ahora han identificado preguntas clave de sostenibilidad que ayudarán a definir políticas innovadoras y soluciones de inversión con miras a transformar los sistemas alimentarios para hacerlos más sostenibles e inclusivos. Los resultados de las evaluaciones también contribuyen a los diálogos nacionales organizados en el marco de la Cumbre del Sistema Alimentario de las Naciones Unidas celebrada en septiembre de 2021.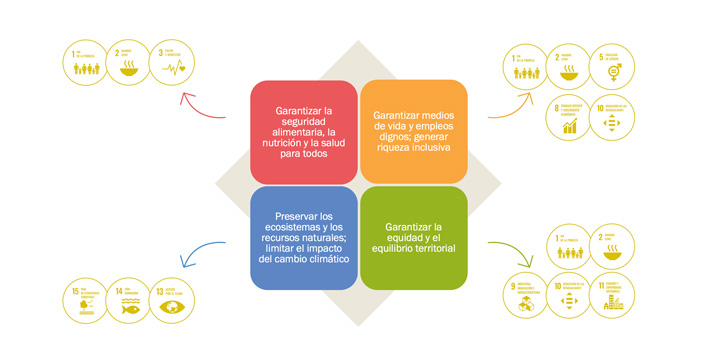 (October 2022) FAO side-event at 50th Session of the Committee on World Food Security (CFS) Committee for Food Security. There is a wide recognition that our food systems are no longer sustainable. They do not provide a diverse and healthy diet, the systems of production are damaging to the environment and the economic gap between actors is widening.

(October 2022) At the 2022 summit of the African Green Revolution Forum (AGRF) held in Kigali, Rwanda, 5-7 September 2022, the future of food systems in Africa was at the core of the debate. They are a fundamental part in reaching the Sustainable Development Goals (SDGs) by 2030, but mid-way through, intensified efforts are needed to meet the target.

(February 2022) To coincide with the publication of the results of the global Food System Assessment, a high-level webinar was held on 20 January as part of the EU's Infopoint series. The event, which gathered nearly 200 participants, had a specific focus on the African continent with results.

(September 2021) As world leaders gather in New York for the UN Food Systems Summit, convened under the General Assembly, to discuss solutions to improve the world's food systems, the Food and Agriculture Organization of the United Nations (FAO) is releasing key results from a major food systems assessment programme.

(Junio 2021) Cincuenta países llevan a cabo evaluaciones del sistema alimentario con el apoyo de la Organización de las Naciones Unidas para la Alimentación y la Agricultura (FAO), la Unión Europea (UE) y el Centro francés de cooperación internacional en investigación agronómica para el desarrollo (CIRAD, por sus siglas en francés).

(October 2020) Our food systems are under pressure, be it from climate change, changing demographics, COVID-19 or other shocks. Transforming food systems to be more sustainable, resilient and inclusive requires a clear understanding of their different dimensions.
Informes clave
Catalysing the sustainable and inclusive transformation of food systems

Interim Synthesis brief

Évaluation des systèmes alimentaires- vers la réalisation des objectifs de développement durable

Marco conceptual y metodológico para evaluaciones nacionales y territoriales

ENGLISH
Julio 2021

ENGLISH
Septiembre 2021

FRANÇAIS
Noviembre 2021

Próximamente

Próximamente

Próximamente

Próximamente
FSA en los medios
Artículos
Blog/Radio/Podcast/Televisión
Lo último de la Unión Europea y el CIRAD
Eventos en los medios
Notas de prensa
Nota de prensa: Catalysing the transition to sustainable agrifood systems (en inglés, 2022)
Nota de prensa: Producing and eating healthy, balanced and diverse food: why is it such a challenge for our world agrifood systems today? (en inglés, 2022)
Nota de prensa: Remise officielle du document sur le profil des systèmes alimentaires de Madagascar (en francés, Représentation de la FAO à Madagascar, Comores, Maurice, Seychelles, 2022)
Nota de prensa: Barbados and The Eastern Caribbean States launch of Stakeholders (en inglés, FAO Regional Office for Latin America and the Caribbean, 2021)
Nota de prensa: Jamaica undertakes major assessment of its food systems ahead of global UN Food Systems Summit (en inglés, FAO in Jamaica, Bahamas and Belize, 2021)
Nota de prensa: Lancement d'une évaluation des systèmes alimentaires dans le cadre du Dialogue national et global sur les systèmes alimentaires (en francés, FAO en République démocratique du Congo, 2021)
Nota de prensa: Somalia Launch of Stakeholders Consultation Workshop on the Assessment of Food Systems ahead of the Global UN Food Systems Summit (en inglés, FAO in Emergencies, 2021)
Nota de prensa: Somalia Launch of Stakeholders Consultation Workshop on the Assessment of Food Systems ahead of the Global UN Food Systems Summit (en inglés, reliefweb, 2021)
Nota de prensa: FAO, EU and CIRAD reaffirm commitment to support The Gambia's efforts to combat food insecurity and malnutrition (en inglés, FAO in Gambia, 2021)