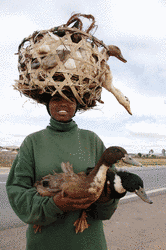 WAW and IFAD
IFAD is a specialized agency of the UN and a development aid bank that provides financial support, as a donor and organizer, for agricultural and rural development in developing and transition countries. It was founded in December 1977 as a result of the World Food Conference in Rome in 1974. Its mission is to combat hunger, malnutrition and poverty by improving agricultural technology and creating and modernizing agricultural and commercial activities in rural areas, including through microfinance projects managed at the local level. IFAD regularly conducts collaborative projects with, among others, the World Bank, the United Nations Development Programme (UNDP), the World Food Programme (WFP) and FAO.
IFAD enables investment at farm level by facilitating better access to assets (physical and financial). It has mobilized support for WAW through its Country Strategic Opportunity Programmes, starting in Mozambique.
New collaborations with IFAD at country level will help to strengthen existing information systems and also provide feedback on the effectiveness of IFAD projects. IFAD will continue to play a pivotal role in the WAW network, developing links to country-level operations.