A decline in the share of family farms
In France, WAW's farm typology is based on the 2000 and 2010 agricultural censuses. Over the course of these 10 years, family farms as a share of total farm holding declined, dropping to 77.8 percent from 81.6 percent, while the share of corporate farms remained stable at 1.2‒1.3 percent.
The typology in France illustrates the importance of family labour to farming. A distinction is made between family, seasonal and permanent hired labour. The type 2A category comprises family farms where family labour is not heavily skewed towards agriculture, as farming is only a secondary activity. The type 2B category is made up of family farms where agriculture accounts for the bulk of family income. Family business holdings are family farms that employ permanent, salaried workers or a high proportion of casual, seasonal labour.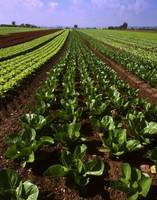 Changes in French agricultural labour by category (2000-2010)
We can see that family farms account for the majority of agricultural employment in France: type 2 family farms and family business farms employed 87.9 percent of total farm labour as of 2010, little changed from 2000. Corporate farms accounted for around 8.8 percent of total farm labour, up from 7.6 percent in 2000. An in-depth analysis including agricultural specialization shows that labour-related strategies differentiate farms more than the size of the cultivated area.