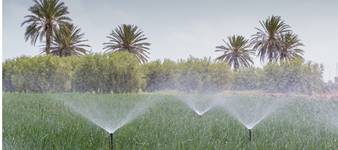 Monitoring pilot programme in Zaghouan and Medenine
WAW's Tunisian team has set up a detailed monitoring system for a limited number of reference farms in the governorates of Zaghouan in the north of the country and Medenine in the south.
These farms – 29 in the north and 16 in the south – represent the diversity of farm types identified. Data collection takes place in two stages: (1) structural data and (2) operational and performance data. The data are used to generate a set of monitoring indicators that reflect the production potential (resources and means of production), operational potential and performance potential of each type of farm.
The mechanism also makes it possible to produce a complete record for each farm, which can be used by development agents as the basis for discussions with the farmer. A dynamic web-based tracking system has been developed based on the platform, which allows the analysis and sharing of data on the reference farms and which could be extended to all reference farms in Tunisia.
Source: Land Degradation Assessment in Drylands (LADA), 2012
The graph shows Tunisia's natural-resource base, land use and management, and socio-economic conditions in 2012. It is potentially useful in terms of national farm stratification and the subsequent targeting of sub-national territories for detailed WAW assessment.