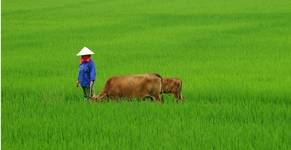 Vietnamese farms show strong market orientation
WAW's typology of farms in Viet Nam is based on data collected at the national level in 2010 by the Vietnamese Household Living Standard Survey and in 2011 by the agricultural and rural census.
Family farms in Viet Nam can be divided into five main types. Most are heavily connected to the market economy (more than 90 percent), though some are less integrated than others, such as Type 1 farms, which sell only 32 percent of their production, on average, to market.
Some are family business farms, such as Types 2, 4 and 5. These rely on permanent, waged workers for 67 percent, 85 percent and 41 percent of total farm labour, respectively.
Generally, Vietnamese farms are not very diversified beyond agriculture. The most diversified are Type 1 farms, with non-agricultural earnings amounting to 54 percent of total income.
Agricultural incomes vary significantly: Types 2 and 4 are the strongest economic performers and, indeed, Type 4 farms generate, on average, 10 times the income of Type 1 farms.