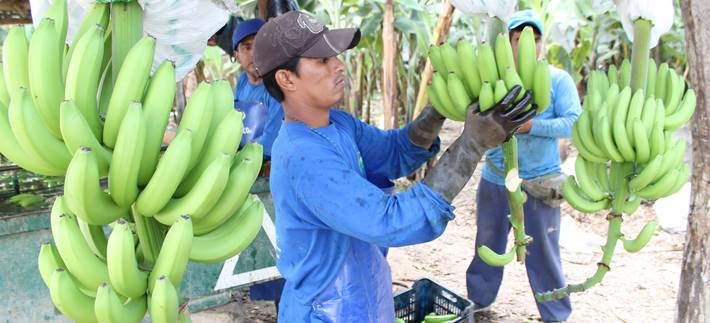 This portal presents examples of good practices in the banana industry and focuses on environmental practices, standards and certifications, health and safety and social practices along the whole banana production chain.
Task Force on Fusarium wilt Tropical Race 4
Many banana sector players are aware of the threat of the Tropical Race 4 strain of Fusarium oxysporum f. sp. cubense (TR4) that causes Fusarium wilt (formerly known as "Panama disease", but the use of this term is not advisable) in Cavendish bananas. Several other banana cultivars are also susceptible to TR4.
It aims to contribute to a more socially and environmentally sustainable banana production and trade with improved standards of living (in particular in relation to health and natural resource access) for male and female banana workers, farmers and surrounding communities.
Practical guide to reduce carbon and water footprints in banana plantations, developed with a value chain approach.
The project aims to establish living wage benchmarks that can be used for future wage negotiations and minimum wage setting interventions in the banana sector of each country.
The World Banana Forum collaborates with the University of Exeter on BananEx – A three year, interdisplinary project on the resilience of the banana supply chain in the UK.