Macedonia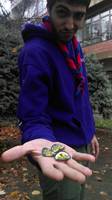 The Scout Association of Macedonia started with the implementation of the YUNGA programme one year ago and already the programme, through the challenge badges, has managed to engage more than 500 young people. Starting firstly with the Biodiversity Challenge Badge last year and continuing with the Climate Change Challenge Badge the Scouts of Macedonia have empowered the young members to deepen their knowledge and act in favour of biodiversity protection and reducing the negative effects of the climate change.
Along with the translation of the publications, the Scout Association of Macedonia has developed badge cards and organized trainings for the leaders who are implementing the YUNGA programme. The trainings enabled the leaders to widen their knowledge and skills in the implementation of the activities and provided them with a platform for exchange of practices and ideas.
Following the first successful outcomes and the interest of the members, the Scout Association of Macedonia will continue to work in the areas and will fully integrate the programme in the ''Compass'' national curriculum.
In the following period we will continue to develop methods and tools that will furthermore support our leaders in implementing the programme.