Markets for Reducing Consumer Food Waste
Retailers are an important interaction point for consumers and food and are well placed to provide information and guidance regarding ways in which food waste can be minimized. Using labelling approaches such as "best before" in conjunction with advice on how best to consume products is one strategy. Providing clear advice on freezing food to avoid waste, is another. Other ways retailers can help consumers reduce food waste include:
provide food in smaller packages
discourage consumers from buying large amounts of food with a short shelf life
provide advice on how to limit food waste via loyalty card schemes
remove buy one, get one free promotions of core products
encourage consumers to buy misshapen or blemished fruits and vegetables to ensure they are not wasted
provide guidance on storage and freezing
ensure that date marks and instructions on food packaging are clear and consistent
encourage consumers to create shopping lists, perform meal planning, including assessment of portion size, and use leftovers
encourage purchase of frozen seafood
promote the idea of consuming parts of fish not commonly eaten, such as soups from made from fish heads
Key Publications
Consumer Food Waste Fact Sheet

This document focuses on why consumers waste food, how much, and what can be done to reduce this waste. This is useful for those involved in communicating strategy and policy to prevent consumer waste.

Recommendations on how food businesses can help customers make the most out of the food they buy are included.
More Resources
More Resources

One of the major issues prevailing in the fisheries and aquaculture industry in Sri Lanka is the high loss and waste of fish, and it has become necessary to introduce strategies aimed at preventing and...
This study aims to improve understanding of how green and digital technologies could be used to reduce consumer food waste and what could be done to further unlock this potential.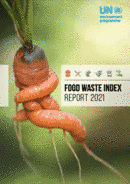 In complement to the Food Loss Index, developed by FAO, the Food Waste Index covers the later stages of food's journey – food waste – occurring at household, food service and retail level.